Taya Valkyrie Says She Has 'Surprises Up My Sleeve' For AEW Double Or Nothing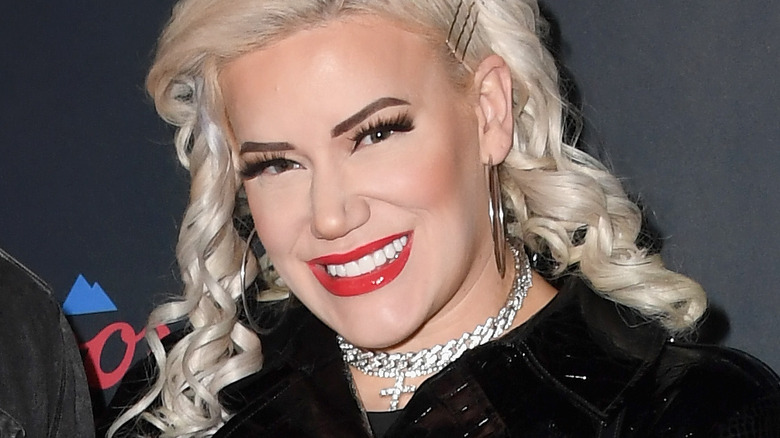 Albert L. Ortega/Getty Images
It's somehow been over two months since Taya Valkyrie first burst onto the scene in AEW, something she herself was stunned to note during an appearance on "Insight with Chris Van Vliet" earlier this week. And while noting she has plenty of fresh matchups to come, Taya first must tangle with Jade Cargill, once again challenging the undefeated TBS Champion at AEW Double or Nothing this Sunday. While Taya has been around the block a bit more than Cargill, she admits she's never seen anyone like the champ.
"I've wrestled every type of female wrestler, man, everything," Taya said. "I've seen a lot of people commit to something, and they don't get to that stage where they want to be in their career, or they give up. And Jade, obviously, has not been in the business a really long time, but her passion, determination, and her athleticism, you can tell she's an athlete ... and you can't tell her s*** either. She really wants to prove herself. I'm happy to be in the ring with someone like that, just to see that the business is going in a positive direction."
As such, Taya is extra motivated to show out at Double or Nothing, both to win the title and to reward the faith AEW has put in her. And given the stakes, she's prepared to throw some things out there that fans may not expect.
"This is a big moment for me," Taya said. "I'm ready to leave it all out there, and I've got some crazy surprises up my sleeve for everybody. It's going to be magical. I'm just so thankful for this opportunity, for Tony believing in me, and allowing me to run with it, and just show the world what I can do."
If you use any of the quotes in this article, please credit "Insight with Chris Van Vliet" and provide an h/t to Wrestling Inc. for the transcription