Saraya Teases First British Match In 7 Years At AEW All In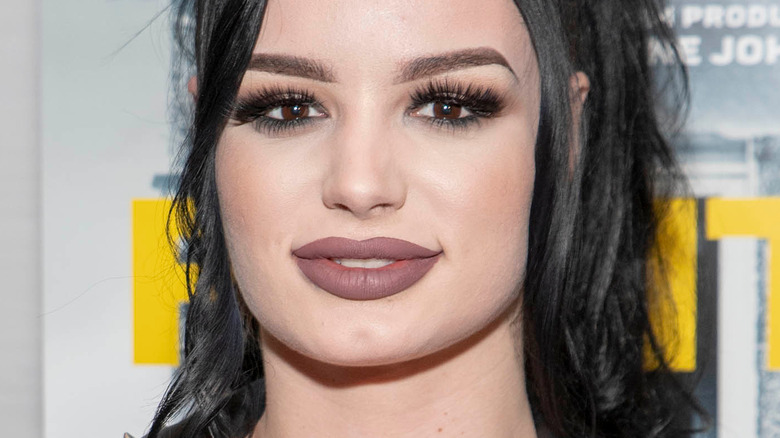 Eugene Powers/Shutterstock
Saraya is coming home later this summer, and she's eager to get back into action at her old stomping grounds. On Sunday, August 27, All Elite Wrestling make their way to London, England as they host All In at Wembley Stadium, which is roughly two hours southwest of Saraya's birthplace in Norwich. In anticipation of the big event, AEW has released several promotional videos, with the latest one featuring The Outcasts (Saraya, Ruby Soho, & Toni Storm).
#TheOutcasts are gracing you with their presence in London!
Our highly anticipated UK debut will take place at the iconic @wembleystadium on Sunday, August 27th! Do not miss out on this historic even
🎟 https://t.co/FIJvZ729cr pic.twitter.com/2fLjiWByfP

— AEW LIVE EVENTS (@AEWLive) May 28, 2023
No matches have been announced for All In yet, but as Saraya points out, having a bout at the event would be her first time wrestling in the UK since April 2016 — when she was under the WWE banner. "So the reason why people should be very excited about us coming to the UK is, first of all, The Outcasts are coming along, of course, but also the fact that I haven't wrestled there in what, like seven years? It's a big homecoming for all of us," Saraya said.
While Soho may have been born in Michigan, Saraya stated that her green-haired ally was an "honorary Brit," while Storm was essentially made by the British people. Storm, of course, spent a significant portion of her wrestling career performing in the United Kingdom in promotions such as Progress, Pro-Wrestling EVE, and IPW. Storm also served as one of the top talents in WWE's European brand known as "NXT UK" before later moving across the pond to join the "NXT" roster in the United States.
Looking forward to the future, The Outcasts are excited to grace fans with their presence at AEW All In. "It's like when the royal family comes out of their little castle. It's a big deal. And we are the royal family of AEW, and we can't wait to see you guys there," Saraya said.