MJF On Doing An AEW World Championship Open Challenge: Dumbest Sh*t I've Ever Heard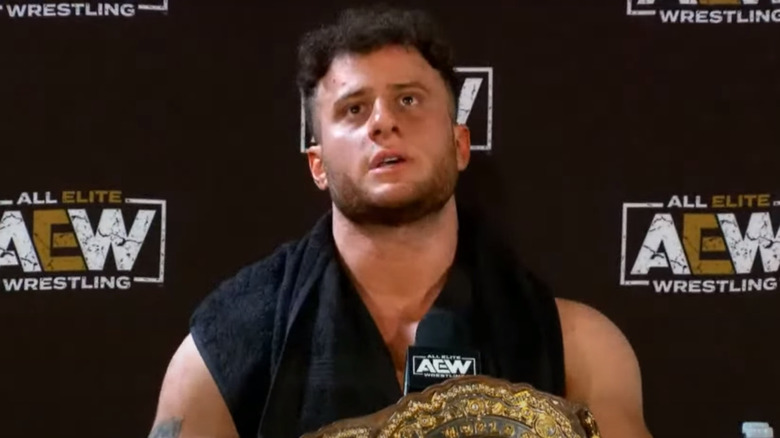 AEW/YouTube
MJF was successful in his defense of the AEW World Championship at AEW's Double or Nothing pay-per-view, but he wasn't the only one to win against multiple opponents on the night. In Double or Nothing's opening match, Orange Cassidy outlasted twenty other wrestlers to retain his AEW International Championship. 
At the show's media scrum, MJF was asked if he would ever have an open challenge, akin to Cassidy.
"That's the dumbest sh*t I've ever heard in my f**king life," he said. "Again, let's talk about bad takes, 'MJF needs to wrestle more.' Every time I wrestle, first of all, it's a f**king classic. So I don't have a point to f***ing prove. I wrestle when I literally have to. I don't get paid by the f***ing hour. [...] I get paid by a winner's motherf***ing purse. 
"But, when you're the world champion, that winner's purse is f***ing fat, dude. So I don't have to wrestle all the f***ing time. So let that mark Orange Cassidy wrestle every single f***ing week. I'm a star, I don't need to wrestle every f***ing week. I wrestle when I feel like it."
While MJF has now defended the AEW World Championship three times, Cassidy has defended the International Championship a staggering 23 times. With Jade Cargill's reign with the TBS Championship as well as her undefeated streak ending at Double or Nothing, Cassidy only needs four more defenses to reach 27 defenses and surpass Cargill's 26 defenses and break the record for most successful championship defenses in AEW's history.