Cody Rhodes Wants Brock Lesnar Rematch, Talks Not Tapping At WWE Night Of Champions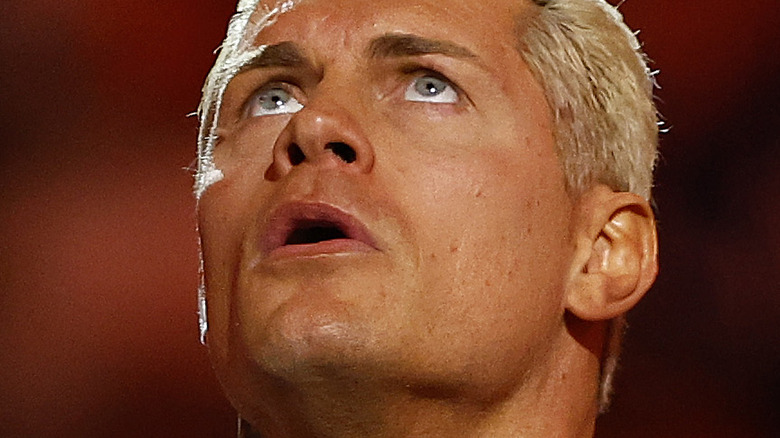 Ronald Martinez/Getty Images
Cody Rhodes is a man on a mission, and his mission is to tame Brock Lesnar once and for all.
On the 5/29 "WWE Raw," Rhodes came out to the ring with his arm in a heavy brace, as he continued to sell the beatdown he received from Lesnar this past Saturday. "The American Nightmare" reminded Lesnar that although their series score stood at 1-1, with Rhodes winning at Backlash and Lesnar at Night of Champions, he never actually tapped out — to Lesnar's kimura lock — during their rematch in Saudi Arabia.
"My contemporaries thought I was stupid to wrestle Brock Lesnar with one hand," Rhodes began. "They said I was crazy to not tap out, but there's a reason why I didn't tap out. I did not tap out because that's not the man I want to be. Years ago, sure, I probably would have tapped out."
Rhodes proceeded to list out his upcoming schedule — including WWE live event dates — before challenging Lesnar to a rematch at any time and place. In doing so, Rhodes mocked Lesnar for being a part-timer and for taking his "annual vacation" while others such as himself continue to bust their behinds for the company.
"Brock Lesnar, are you satisfied with this being done?" Rhodes asked. "I hope you're not because consider this an open challenge to you. Hopefully, you have social media, cable, or something there in Saskatchewan, because I'm going to post my entire schedule sometime this week. If I am standing in a ring, I'm standing there ready to fight you, Brock Lesnar!" 
In conclusion, Rhodes said, "Brock Lesnar is afraid of Cody Rhodes." As of this writing, Lesnar is not advertised for the July 1 Money in the Bank premium live event in London. However, those plans could potentially change in the coming weeks.
"BROCK LESNAR IS AFRAID OF CODY RHODES!"#WWERaw pic.twitter.com/54Vsetawg0

— WWE (@WWE) May 30, 2023