Matt Cardona And Steph De Lander Share Epic 'Rydertaker' Video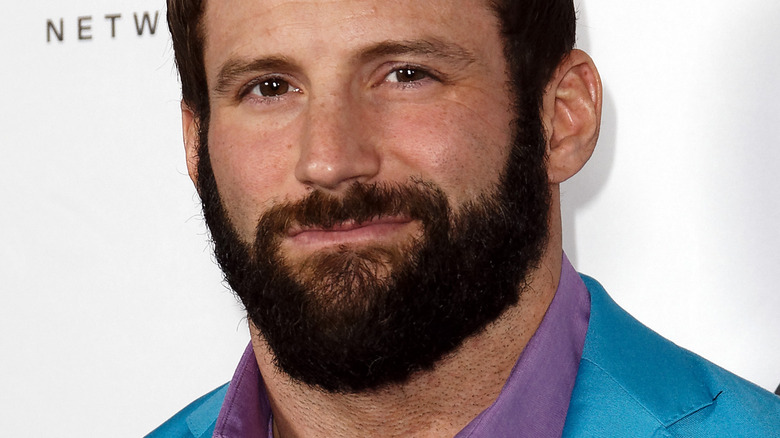 Sylvain Lefevre/Getty Images
Matt Cardona and Steph De Lander are raising their former "Zack Ryder" and "Persia Pirotta" characters from the dead in a new video shared on Twitter. The self-proclaimed "Internet Champion" recently returned with his throwback WWE "bro-ski" character in another video last week, reviving the Ryder persona and his popular "Z! True Long Island Story" video series. The return video featured De Lander — Cardona's current partner on the independent scene — reclaiming her own former WWE character.
THE RYDERTAKER!

Zack Ryder & Persia Pirotta will REST IN PEACE!@themattcardona @stephdelander

🎥: @SHOOT_HARRY pic.twitter.com/30xXWJslM9

— Matt Cardona (@TheMattCardona) May 31, 2023
Cardona worked for WWE as "Ryder" from 2005 until 2020, while De Lander wrestled for "WWE NXT" for roughly a year between early 2021 and 2022. De Lander now acts as Cardona's enforcer on the independent scene, where the former WWE star has racked up handfuls of championships during his recent resurgence.
In their latest video, Cardona and De Lander mock The Undertaker and WWE Chairman Vince McMahon's infamous onscreen "death" from 2007 when his limousine dramatically exploded. The video starts with De Lander calling Cardona, telling him she's "at the tombstone" to "pay respects to Zack and Persia," before the camera cuts to a tombstone showing the years they both started using each of their former names and the current year. De Lander tells Cardona to "hurry up" and hangs up the phone, before Undertaker's famous bell toll rings out and the camera cuts to Cardona donned in a "Dead Man" gravedigger outfit. The video then shows a chase scene between Cardona and De Lander, which leads them both to a white limousine that blows up, a la McMahon."THE RYDERTAKER!" Cardona tweeted alongside the video, telling his followers, "Zack Ryder & Persia Pirotta will REST IN PEACE!"