Abdullah The Butcher Talks Potential WWF Match With Hulk Hogan That Fell Through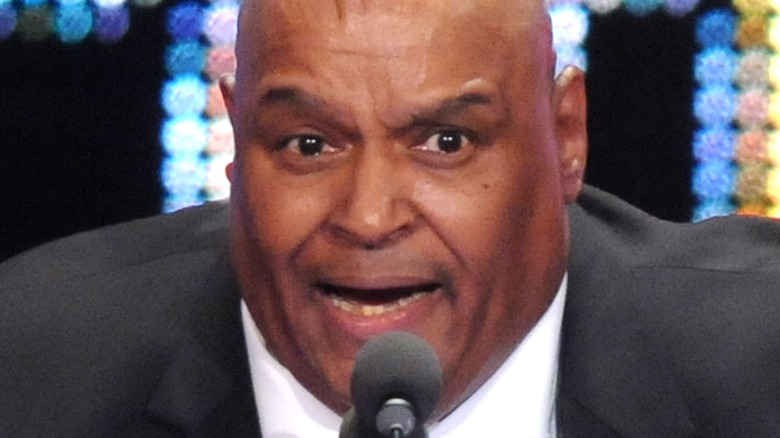 George Napolitano/Getty Images
Abdullah the Butcher was a significant name in pro wrestling outside of WWE, with violence and blood often being mainstays in his matches throughout the world. While in Japan, he faced off against Hulk Hogan in 1982, who seemingly had an appreciation for Abdullah, even showing interest in bringing him to WWE for a match. While on "Stories with Brisco and Bradshaw," the WWE Hall of Famer discussed his interaction with Hogan, and why the match between the two never took place.
"I wrestled Hogan in Japan, we tore the place down," Abdullah said. "He got color for me, Bam, bam, he's bleeding. I was just doing my stuff like that. We sold everything out in Japan and Hogan said ... 'I'm going to talk to Vince McMahon. I'm going to bring you in but you're not going to wrestle nobody but me and I'll make you so much money it's unbelievable." Prior to him signing a contract, Abdullah stated that McMahon spoke with other wrestlers backstage about him and discussed his antics like stabbing with weapons mid-match and bleeding, leading to the match officially being "cut."
Following the decision to not move forward with the bout, Abdullah would never compete during a WWE event. Despite never receiving the match, Abdullah would continue to find success outside WWE, winning championships for promotions like NWA, Stampede Wrestling, and Big Japan Pro-Wrestling. Abdullah was recognized for his iconic career outside of WWE by the company in 2011, as he was inducted into that year's Hall of Fame class.
If you use any quotes from this article, please credit "Stories with Brisco and Bradshaw" with a H/T to Wrestling Inc. for the transcription.