Rhea Ripley Says Seth Rollins Will 'Get What's Coming To Him' For WWE Raw Spot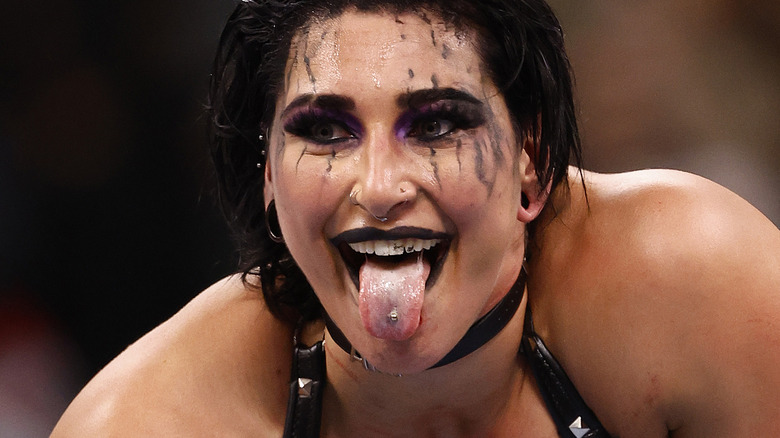 Ronald Martinez/Getty Images
The Memorial Day edition of "WWE Raw" featured a funny moment in the main event when World Heavyweight Champion Seth Rollins pretended to be Dominik Mysterio and put his arm around "SmackDown" Women's Champion Rhea Ripley to prank her. During a recent interview with FOX 61, Ripley offered her thoughts on what happened with Rollins.
"I thought it was Dom," Ripley said. "I'm upset with Rollins because I thought it was Dominik, and I was living in the moment with my Dom-Dom celebrating and cheering on my fellow Judgment Day members. And then I heard this little cackle in the side of my ear, and I was like, 'That's not Dom's laugh.' He freaked me out. I didn't even know how to respond to it... So he's going to get what's coming to him. It not only surprised me, but it surprised Dom as well, so I know he's going to want to do something about it."
Ripley is just the latest person to react to the spot. Fans on social media pointed out that the prank was a callback to when Shawn Michaels put his arm around Melina at Survivor Series 2006, which was originally something he did to Sunny a decade prior. Melina responded on Twitter by stating, "I love this," while sharing the clip. On Wednesday, Rollins appeared on "WWE's The Bump" and joked that he hopes he didn't offend Ripley, Mysterio, or even Ripley's real-life boyfriend Buddy Matthews, who used to team with Rollins at one point as Buddy Murphy in WWE.
If you use any quotes from this article, please credit FOX 61 with a h/t to Wrestling Inc. for the transcription.