Seth Rollins And Rhea Ripley Recreate Iconic Survivor Series 2006 Spot On WWE Raw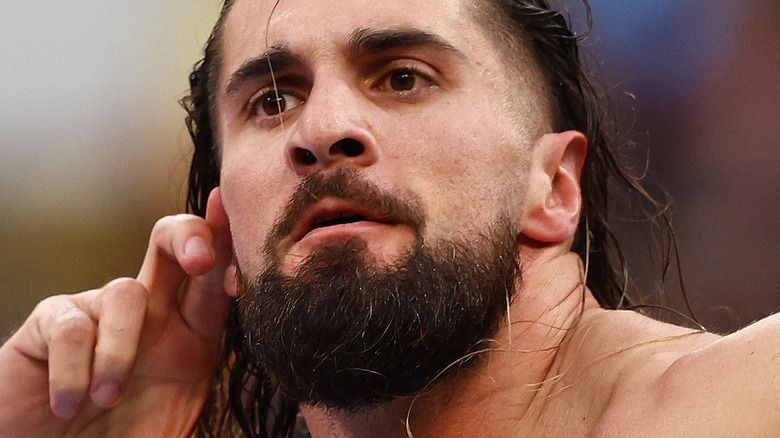 Ronald Martinez/Getty Images
Following his World Heavyweight Championship victory this past Saturday at Night of Champions, Seth Rollins can safely say he is the top star of the "WWE Raw" men's division. So it makes sense that on last night's "Raw," Rollins would turn to the top star of the "Raw" women's division, WWE "SmackDown" Women's Champion Rhea Ripley, to recreate a past moment in company history.
During a tag team match featuring Rollins, and his Night of Champions opponent AJ Styles, taking on Ripley's Judgment Day teammates Damian Priest and Finn Balor, Rollins would slide out of the ring to pose with Ripley while she was playing to the crowd. Ripley was momentarily oblivious that it was Rollins beside her, leaving to an awkward moment between the two before Rollins would get back in the ring. In several tweets after the show, Ripley, who was ejected from the match shortly after, wasn't pleased with the development.
— RheaRipley_WWE (@RheaRipley_WWE) May 30, 2023
Bull. https://t.co/1ABtMl5pfS

— RheaRipley_WWE (@RheaRipley_WWE) May 30, 2023
You will regret this. https://t.co/S6dsudZlPc

— RheaRipley_WWE (@RheaRipley_WWE) May 30, 2023
Shortly after the match, several fans pointed out that the spot was similar to one that occurred during a 2006 Survivor Series match between Team D-X and Team Rated-RKO. While running the ropes, Shawn Michaels would duck under a Johnny Nitro leap frog and slide under the ring, putting his arm around Nitro's manager Melina, which was in turn similar to a spot he did with Sunny in 1996. Like Ripley, Melina was unaware for a moment before realizing it was Michaels. The former WWE star hasn't forgotten the spot, and tweeted her approval of the homage shortly after "Raw" concluded. Ultimately, Rollins' moment with Ripley, and the subsequent ejection of "Mami" and Dominik Mysterio from ringside may have been the turning point of the match, as Rollins and Styles would go on to defeat Priest and Balor not long after.
Seth Rollins/Rhea did the Shawn Michaels/Melina spot I'm crying 😂😂 pic.twitter.com/8GsMzLjMJ9

— Wrestling Pics & Clips (@WrestleClips) May 30, 2023
I love this. 🫶 https://t.co/CkzDY4Eyg3

— 🄼🄴🄻🄸🄽🄰 (@RealMelina) May 30, 2023