AEW Teasing Referee Aubrey Edwards Wrestling In A Match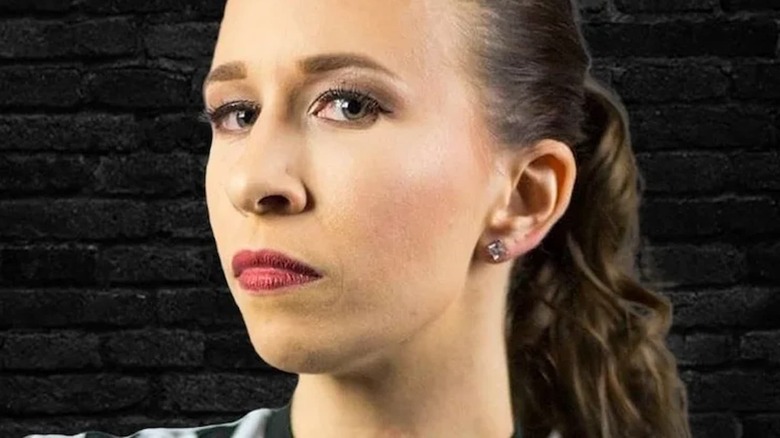 AEW
AEW referee Aubrey Edwards isn't afraid to get involved if the in-ring action calls for it, but at Double or Nothing she may have bitten off more than she can chew. FTR defended their AEW World Tag Team Championship against Jeff Jarrett and Jay Lethal, but it didn't come without incident. Eventually, Edwards got involved, shoving Sonjay Dutt before taking a guitar shot from Double J's wife Karen Jarrett.
It appears the story will not end there. Judging by Friday's "AEW Rampage," that is, when she confronted the Jarretts, Dutt, Jay Lethal, and Satnam Singh during a backstage segment after Lethal suggested, "if we're throwing out suspensions, let's start with Aubrey Edwards!" When "The Last Outlaw" continued talking, Mark Briscoe, who was tasked with being special guest referee during Sunday's bout, appeared. He quickly made it clear that Tony Khan promised there would be no suspensions, declaring "Because if you are suspended, then you will not be here. And if you are not here, then we will not be able to give you the a**-whooping that you so truly deserve."
All hell has broken loose between the two sides after what happened at #DoubleOrNothing!
Watch #AEWRampage on TNT!@TheLethalJay @sonjaydutterson @Karenjarrett @RealJeffJarrett @hellosatnam | @RefAubrey @SussexCoChicken pic.twitter.com/46PPKQ3ffO

— All Elite Wrestling (@AEW) June 3, 2023
Lethal assumed Briscoe was talking to him and Jeff, only to have that idea immediately shot down. Instead Briscoe turned his attention to both Jarretts, prompting Karen to ask "Who in the hell is we? Who's we?" Briscoe slowly turned around as Edwards approached, much to the amusement of Dutt, Lethal, Singh, and the Jarretts. Karen stepped forward to meet her face-to-face before asking "You want this? I don't see anything but air and opportunity in between us." Edwards responded by attacking Jarrett, only to be separated by multiple officials.