Kurt Angle Wants Pro Wrestlers To 'Go Back To The Way It Was,' Art Is In Storytelling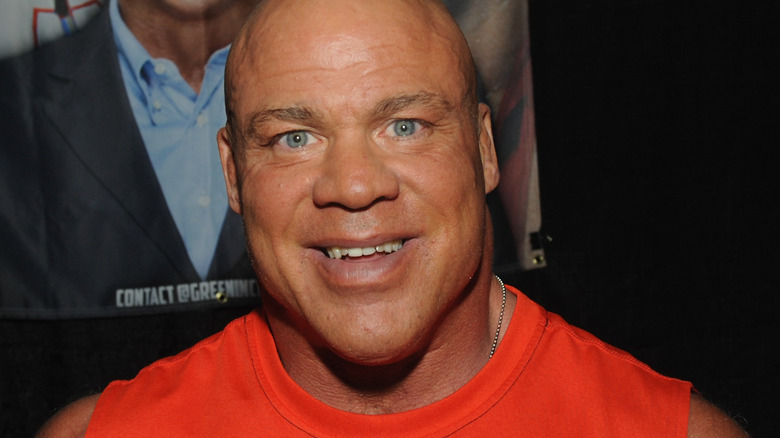 Bobby Bank/Getty Images
As life goes on, things change, and pro wrestling is no different. Over the years, the profession has evolved from the days of Bruno Sammartino, Rikidozan, and El Santo into the modern age of wrestlers such as Seth Rollins, Kenny Omega, Kazuchika Okada, and El Hijo del Vikingo. And for Kurt Angle, a man of an old-school mentality who is familiar with the modern style, it's a change that's been difficult to accept.
On the latest episode of "The Kurt Angle Show," Angle talked about wrestling's evolution and how it's changed from his heyday. The Olympic Hero wasn't entirely down on the new style, understanding that it's something that wrestling fans are looking for at the moment. Nevertheless, he hopes to see wrestling return to a storytelling base and less one centered on all-out action.
"Pro wrestling today is a lot different," Angle said. "It's a lot more high action, a little more high flying, a lot of acrobatics, they do less selling, less storytelling. I just think that pro wrestling, these guys should go back to the way it was. Start doing some chain wrestling and certain techniques to make it basic, because that's the art of the sport.
"It's telling the story, having the good guy outwrestle the bad guy at the beginning, then having the bad guy cut the good guy down and get heat on him, and then have the good guy make the comeback and you have the finish. Does the bad guy cheat and win, or does the good guy overcome and win? These are simple ways of doing it, and the thing is, now we got complicated. Now you don't know who the babyface or the heel is."
If you use quotes in this article, please credit "The Kurt Angle Show" and provide an h/t to Wrestling Inc. for the transcription