Booker T On Why Lacey Evans Will Have Tough Time With New WWE Gimmick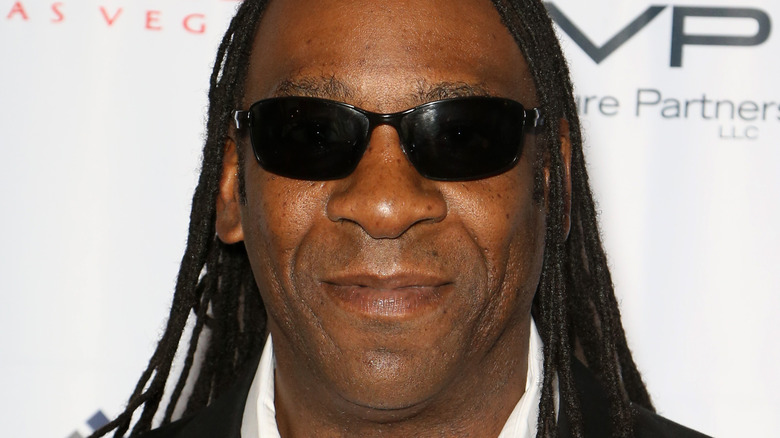 Gabe Ginsberg/Getty Images
WWE star Lacey Evans stirred up a bit of controversy online this week when she returned to the company dressed in attire reminiscent of a WWE Hall of Famer — Sgt. Slaughter. On the Just 2 edition of "WWE SmackDown," Evans came to the ring wearing military gear as well as a hat that seemed very similar to Slaughter's iconic accessory, complete with a snake wrapped around the brim. Earlier this year, Evans also began using Slaughter's finisher, the Cobra Clutch. Appearing on his "Hall of Fame" podcast, "WWE NXT" commentator Booker T discussed Evans' new look, explaining why he would've opted against it for reasons that have nothing to do with Slaughter.
"One thing that I always say about my female wrestlers, I always tell them, 'Never lose your femininity. Never lose your sex appeal,'" Booker said. "Men, they come to see you wrestle, but more importantly they come to see you. And Lacey Evans playing a military character is taking away from a lot of assets that she [has] that she could actually use."
Booker went on to state that the independent wrestling scene may have "moved past" the need for feminine sexualization, but that won't ever happen in "the major leagues." The WWE Hall of Famer added that he used to dress himself in the shortest shorts possible and apply baby oil for the same reason — to attract a female audience. Additionally, Booker shared that he didn't have a problem with the similarity to Sgt. Slaughter, but said that type of character might not work as well today as it did in the past.
"I just don't think, where the world is right now, we're gonna need a savior like Sgt. Slaughter coming in to save America," Booker stated. The "NXT" color commentator brought up the Iron Shiek and Sgt. Slaughter feud as an example of something that worked great in its era, but wouldn't come across the same today.
"We see the characters that get over, you know?" Booker continued. "The Rhea Ripleys. The Charlotte Flairs. The Bianca Belairs. Just real people. They're just coming out and making you feel a certain way when you see them walk out [of] that curtain."