Video: Dwayne The Rock Johnson Shares Emotional Tribute To The Iron Sheik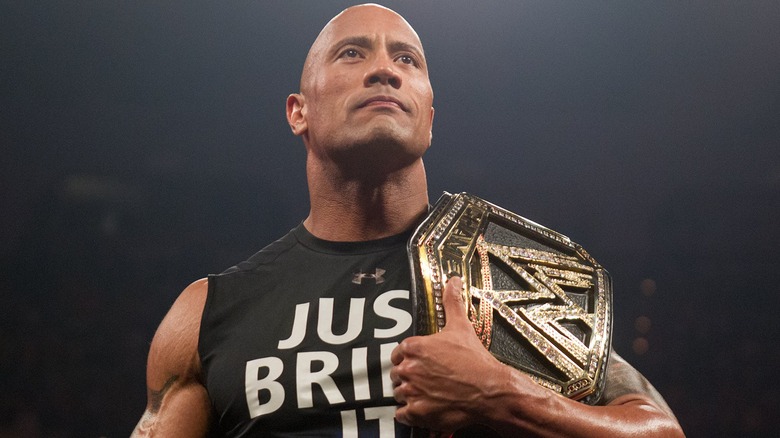 WWE
On Wednesday, the wrestling world was saddened by the death of 81-year-old Hossein Khosrow Ali Vaziri, better known as The Iron Sheik, with numerous stars taking the time to express their condolences on Twitter. One who did so in extended fashion was Dwayne "The Rock" Johnson, who tweeted a video tribute to the man he calls "Uncle Sheiky." Not only did Johnson know Sheik during his childhood, when his father Rocky Johnson was in Jim Crockett Promotions and WWE, but his first WrestleMania match, in 1997, featured Sheik at ringside as manager of his opponent The Sultan.
"Most importantly, I want to send my love and my support, my strength, my light, my mana, and my condolences to The Iron Sheik's family, who I consider ohana, they are family of ours, too," Johnson said. "As I think a few of you may know, I grew up calling The Iron Sheik 'Uncle Sheiky.' And when my dad and The Iron Sheik used to wrestle together not only in WWE, but also before that, when we were living in North Carolina ... Uncle Sheiky would come over to the house, and his wife would babysit me. And I was about eight years old at that time, and I was a pain in the ass even then. So God bless that woman, his wife, Caryl, thank you, Caryl, for putting up with all my s**t as a kid. I hope you guys are staying strong, and again, I'm so sorry to hear the news."
Rest in Power, Uncle Sheiky ❤️
Thank you for paving the way 🙏🏾
Love, light and strength to Caryl & the ohana x pic.twitter.com/p9c9wwQz6U

— Dwayne Johnson (@TheRock) June 7, 2023
Johnson also shared a story from when he first started as a wrestler and Uncle Sheiky taught him an important lesson. "Bubba, let me tell you something," Johnson recalled him saying. "You come into the locker room, you sit down, you shut your mouth, you don't say anything, and you watch and you learn. And then you understand who the good people and who the jabronis." And though "jabroni" was an existing term in pro wrestling lexicon, Johnson says that he got it from The Iron Sheik. "Thank you, Iron Sheik, for the memories," Johnson closed. "You are a legend. You will be missed, but never forgotten."