Booker T On The Challenge AEW Faces With Forbidden Door PPV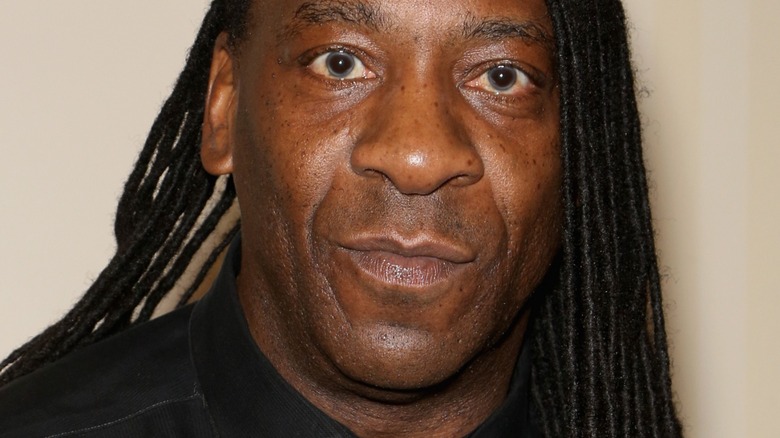 Gabe Ginsberg/Getty Images
The latest AEW x NJPW Forbidden Door event was well-received by many wrestling fans, but Booker T isn't convinced that the pay-per-view will ever appeal to casual audiences in the United States. On a recent edition of his "Hall of Fame" podcast, he detailed some of the hurdles he believes AEW faces with getting more people to tune into the cross-promotional event.
According to Booker, viewers in the United States who primarily watch American television aren't clamoring to watch pay-per-views with NJPW stars — no matter how talented they are in the ring. He acknowledged that he thinks many of the wrestlers are impressive performers, but they aren't widely known in North America, and that will lessen the event's appeal in some people's eyes.
While the WWE Hall of Famer doesn't believe that AEW is stunting its growth by focusing on events like Forbidden Door, he isn't convinced that the company will be able to bridge the gap between the American and Japanese wrestling markets. Furthermore, he thinks that AEW might think Japanese wrestling is more popular in the United States than it actually is.
"America's not in tune to watch Japanese television because it's the language barrier," he said. "We don't know what they're saying. It's just like watching Spanish television... we're not going to watch... People are just going to watch what they're comfortable with more than anything."
Booker also stated that while The Great Muta and some other Japanese stars have gotten themselves over in the United States, they are too few and far between. As such, many American viewers are going to be less invested in Japanese talent, so they're less likely to tune in to see them compete.
If you use any quotes from this podcast, please credit "Hall of Fame" with a h/t to Wrestling Inc. for the transcription.