Konnan Talks Ortiz & Santana AEW Split, Whether He Can Get Them Back Together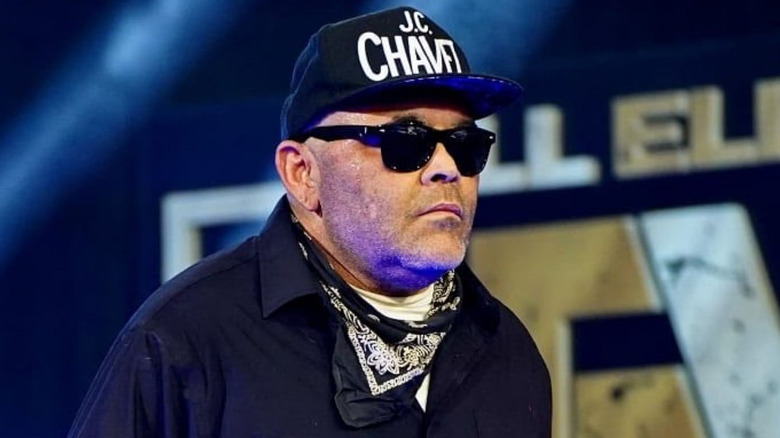 AEW
Ortiz and Santana, the latter of whom is nearing a return from a knee injury, still aren't on the same page following a personal falling out over their respective AEW roles. But Konnan, who's worked closely with the duo for years between Impact Wrestling and AEW, remains hopeful they can reunite. He spoke about that while touching on their current relationship on "Haus of Wrestling."
"For a while here, Ortiz and Santana hadn't been seeing eye to eye," Konnan explained. "And I've been talking to both of them to see if they'll, you know, reunite." The pair were put with Chris Jericho upon arriving in AEW, something Konnan didn't really understand. Despite that, they went with it anyway, but it ultimately petered out. "And I love Jericho ... But bro, he did nothing with them," he declared. "I mean absolutely nothing with them, and so these guys died a slow death."
Ortiz and Santana last teamed up at Blood and Guts last June, battling alongside Eddie Kingston and Blackpool Combat Club to defeat The Jericho Appreciation Society. But in October, Konnan opened up about their personal frustrations with AEW. And while Ortiz was willing to ride it out, citing that they were being cared for regardless, Santana wanted more. That led to tension between the two, and at the time Konnan admitted that they weren't even speaking to one another. Still, he believes there is a path forward. "I hope so. I think so, yeah," he admitted when asked if he believes they could bury the hatchet. "And, you never know. Maybe when we have our show, we'll bring them over there if they're not working with AEW."
If you use any quotes from this article, please credit "Haus of Wrestling" with a h/t to Wrestling Inc. for the transcription.