AEW's Rebel Compares Being A Wrestler To Being A Dallas Cowboys Cheerleader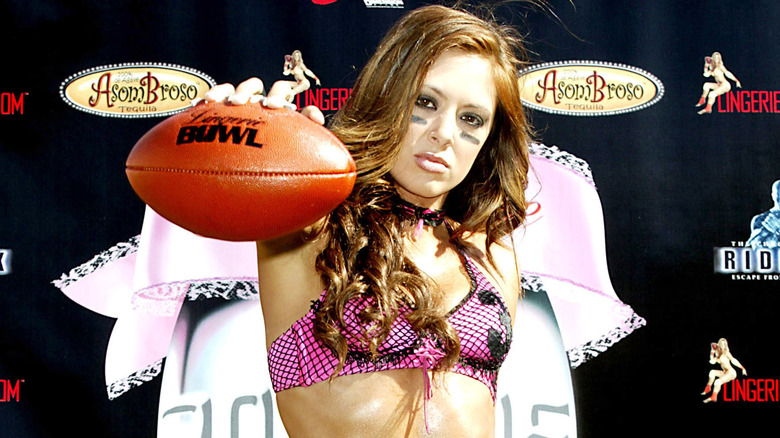 Brad Washburn/Getty Images
Fans may know Tanea Brooks as Rebel in AEW, but long before she stepped foot inside a wrestling ring, Brooks was a cheerleader for the Dallas Cowboys. That experience helped her transition to the world of professional wrestling — from the seemingly endless travel to the culture — a little more smoothly.
"I originally made it right out of high school," Rebel said of becoming a cheerleader during a recent episode of "Wilde On."
Living in Oklahoma at the time meant traveling four hours there and four hours back just to get to practice in Dallas, Texas. Therefore, Rebel would have to leave school early so she could arrive on time. "I'd have a family member drive me four hours to Dallas to make practice by 5:00," she added. The amount of travel also meant that she'd be catching up on homework or sleep, if not both, on the drive back to Oklahoma.
Yet by the time she arrived at Impact in 2013, she felt suitably prepared, citing the hazing of her early cheerleader days. "It's very similar to wrestling," Rebel continued. "That's why I was able to like, 'Yes, I know. Respect ...' And like, people who come before you ... Once you get to the veteran status, then you appreciate how you came up through the system. Definitely helped me prepare for wrestling."
Upon joining AEW in 2019, Rebel was tasked with doing hair and makeup backstage for the women. The following year, she was utilized on-screen alongside Britt Baker and eventually Jamie Hayter. However, she was removed from storylines earlier this year and hasn't wrestled for the promotion since last August. 
If you use any quotes from this article, please credit "Wilde On" with an h/t to Wrestling Inc. for the transcription.