Why WWE's Tiffany Stratton Doesn't Thinks She Needs To Prove Herself To Anyone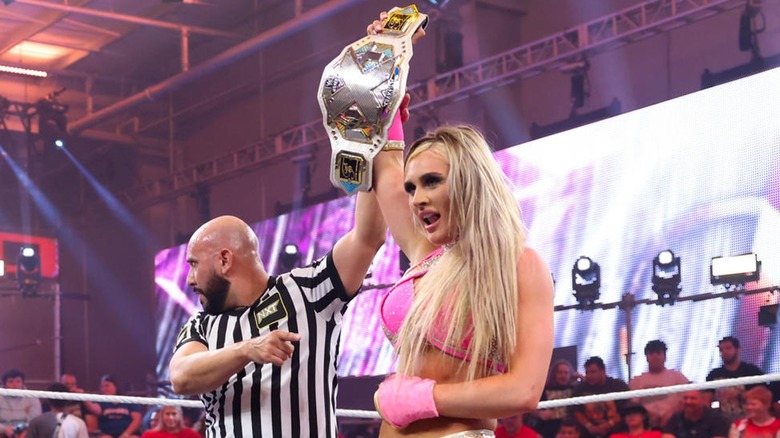 WWE
At just 24 years of age, it would be easy to forgive Tiffany Stratton for still having doubts about her career as a professional wrestler. On top of being young in age, Stratton is also still extremely young in the business, only signing with WWE developmental less than two years ago. Despite her inexperience, the former gymnast has already claimed gold within "WWE NXT" and has won over a large contingent of the notoriously critical pro wrestling fanbase. With a genuine athletic background and the ability to adapt her natural skillset to producing inside the ring, Stratton has become one of the developmental brand's most consistent performers since making her on-screen debut in December 2021, and capturing the "NXT" Women's Title was the cherry on top of a truly meteoric rise.
Speaking on a recent episode of "Out Of Character", Stratton admitted her early matches on TV were a major learning experience, but believes she has found her groove as a performer, both in the ring and as a character.
"The first couple of matches, I really had no idea what I was doing. I honestly would always revert back to being bigger than life, out of this world and it worked," she said. "I definitely will not do anything unless it's 110 percent. I will not do anything half-effort, I go into it and I'm going to make sure that I'm the best at what I do. I just needed to figure out who I am, and I need to formulate a character, and I need to have go-to's for my promos. I need to figure out my move set, my finish –-I really made sure that I checked every single box, because I really truly do want this and I do want to go far with this. Knowing who I am as well, in real life, really helps too." 
Stratton is comfortable with her growing stardom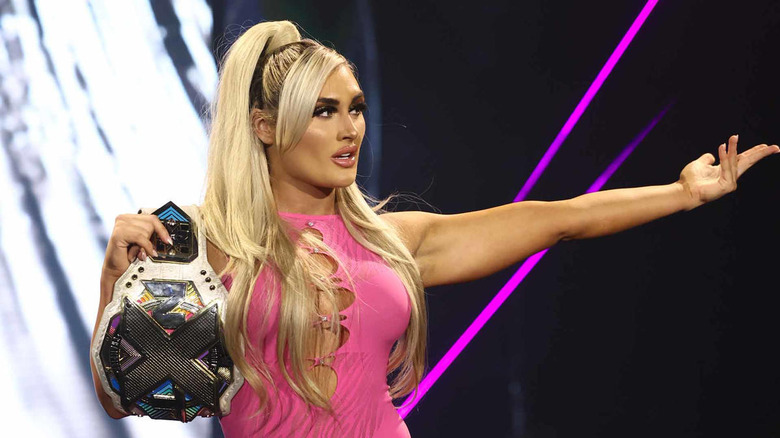 WWE
Stratton's ascent to the top of the card is just one example of the company's desire to build for the future. Along with Stratton in the "NXT" main event scene are the likes of Bron Breakker, Carmelo Hayes, Roxanne Perez and Cora Jade — all performers under the age of 30 with a high ceiling in the business. But it's Stratton who has built a name for herself in the quickest amount of time, and with a steady head on her shoulders, the sky truly is the limit for the Minnesota native.
In an industry where risk-taking and high-flying moves are given high praise by the audience, Stratton has already adopted the "less is more" approach to her work — even if her athletic prowess is as clear as day inside the ropes. 
"I feel like now I don't need to prove myself to anybody. I don't need to go out there and you know, do a bunch of crazy things," she said. "I just need to go out there and be a star and have a big presence and do my thing. I'm done proving to myself and everybody else that I am worthy of this. I know that I'm worthy of holding this title, and now is the time that I show it."
Following her recent win over Thea Hail, Stratton's next title defense is unclear, but there will undoubtedly be plenty of challengers lining up for a shot at the champ on "NXT" TV.
If you use any quotes from this article, please credit "Out Of Character with a h/t to Wrestling Inc. for the transcription.