AEW Collision Results 7/8 - CM Punk Vs. Samoa Joe, Owen Hart Cup Semi-Finals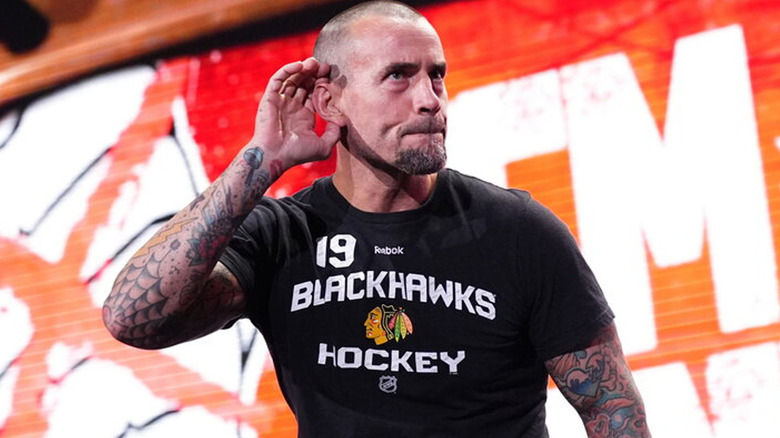 AEW/socialie
Welcome to Wrestling Inc's live coverage of the July 8 episode of "AEW Collison." This week's episode comes from the Brandt Centre in Regina, Saskatchewan, Canada.
Tonight's episode will feature two Owen Hart Cup Men's Tournament semi-final matches. One of the matches will see CM Punk versus Samoa Joe, a match that many Ring of Honor fans will be excited to see. The other men's semi-final match will see former Team Taz stablemates, Ricky Starks and Powerhouse Hobbs face each other.
The women's semi-final match is ROH Women's Champion Athena versus former NJPW Strong Women's Championship Willow Nightingale. One of the last times that Athena and Nightingale faced each other was on the March 9 episode of "ROH on HonorClub." The match ended with Athena successfully defending the ROH Women's Title against her opponent.
There is also an AEW Tag Team Title Eliminator match that will see AEW World Tag Team Champions FTR take on Bullet Club Gold. On the debut episode of "Collision," FTR and Punk tagged together and defeated White, Robinson, and Joe.
The show opens up with two promos before the opening. Punk is on the mic, and talks about how it has been 18 years since he had a match against Joe. He then praises Owen Hart and how if it wasn't for him, nobody would be in the locker room. The crowd cheers.
Owen Hart Cup Men's Tournament Semi-Final match: Ricky Starks vs. Powerhouse Hobbs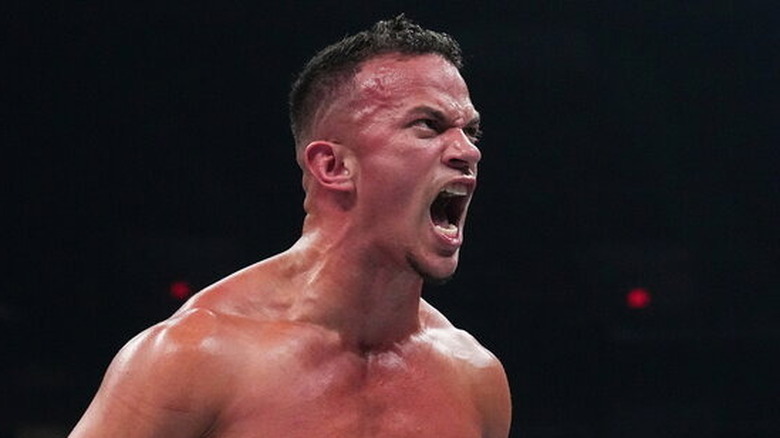 AEW
A segment airs about CM Punk and Samoa Joe, showing their matches from Ring of Honor. Afterward, Powerhouse Hobbs comes out for his match against Ricky Starks. 
Back from the break. Starks comes out. The bell rings. They lock up, and Hobbs throws Starks in the ring corner, but he gets hit in the stomach. Starks clotheslines Hobbs and forces his opponent to leave the ring. QT Marshall talks to him ringside and he runs back in. Hobbs hits Starks and Marshall chokes him without the referee looking.
Starks is in the ring corner and he hits Hobbs in the stomach. He tries to clothesline Hobbs but gets pushed down. Hobbs suplexes him. Starks tries to fight back but gets thrown into the ring corner. 
Back from the break. Hobbs has Starks in a reverse bearhug. Starks gets his second wind. Starks hits a powerbomb. He goes for a pin and gets a two-count. Starks botches a springboard DDT. Hobbs hits a spinebuster, but Marshall distracts the referee and Hobbs is upset with him. Starks knocks into Hobbs, who bumps into Marshall and Starks hits a spear for the win.
Winner: Ricky Starks
Post-match, Marshall gets into the ring with Hobbs and apologizes to him, but Hobbs knocks him down. He's upset that Marshall was distracting the referee. Aaron Solo comes in and Hobbs hits him with a spinebuster. Harley Cameron then runs in and Hobbs leaves.
Julia Hart vs. Bambi Hall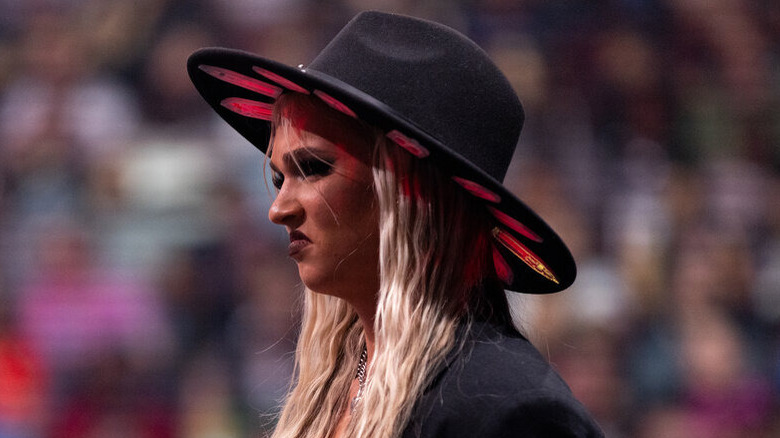 AEW
Next up is a Miro promo and it's announced that Julia Hart will be in action. Elsewhere, it's announced that Willow Nightingale is not medically clear to wrestle Athena in the Owen Hart Cup semi-finals. Nightingale gets interviewed by Tony Schiavone and Athena comes out and tells her that she "ruined" her "Collision" debut. The match is moved to next Friday's "Rampage." 
Afterward, Julia Hart comes out for her match, accompanied by fellow House of Black member Brody King. She's wrestling a local talent called Bambi Hall. They stare down at each other and then lock up. Hart trips her and Bambi falls. She slaps and kicks her, but Bambi gets some offense before Hart forces her to tap out. 
Winner: Julia Hart
After the match, Malakai Black has a message for Andrade El Idolo. He talks about why he took Idolo's mask. Idolo is later interviewed by Lexi Nair and says that he's not a "coward" like Black. He then explains that the mask represents his family and culture, and when he has it on, he gets into business mode. When he takes it off, though, it's time for him to fight.
AEW Eliminator Tag Team Match: FTR vs. Bullet Club Gold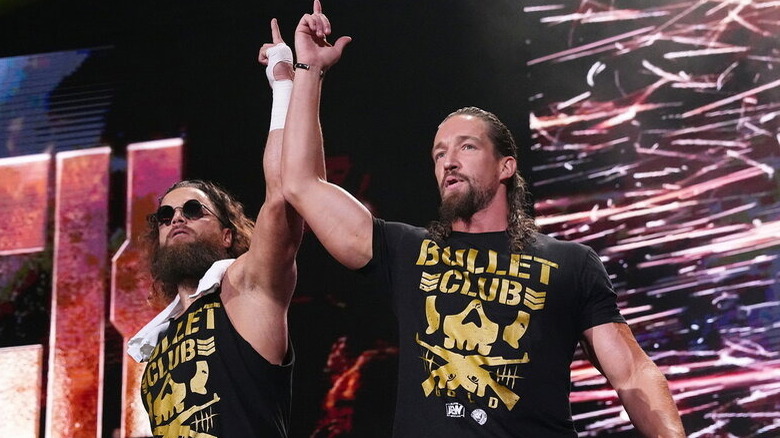 AEW
Next up is the AEW Eliminator Tag Team Match between FTR and Bullet Club Gold. The match starts with Jay White and Dax Harwood locking up. Harwood pushes White into the corner and tries to score an early victory, but the Bullet Club Gold member kicks out.
White tags in Juice Robinson, while Harwood tags in Cash Wheeler. They lock up and Wheeler pulls Robinson's hair. Wheeler has him in a submission hold. Robinson clotheslines Wheeler and White gets tagged in. He punches Wheeler and the FTR member gets thrown out of the ring. He runs back in and all four of them are in the ring and they keep punching each other. 
Back from the break and White has just tagged in Robinson, who attacks Harwood. He throws him in the ring corner. Robinson gets a one-count. Harwood chest slaps his opponent and then tosses him. He tags in Wheeler, who tries twice for the pin and later puts Robinson in the corner. Wheeler is in the corner now and White is in the ring and hits a backbreaker. White has Wheeler in a lock and then Harwood hits White in the chest. White tries to suplex Wheeler, but the opponent tries to win with the rollup but the referee doesn't notice.
Robinson is back in the ring, but he quickly tags in White again. Wheeler is fighting both Robinson and White. Wheeler throws Robinson out of the ring, and White does the same to him. White is the only one in the ring now and it goes to a commercial break. Back from the break and it's White and Wheeler in the ring. A lot going on and Wheeler gets a two-count. He hits a German suplex.
White gets hit by a frog splash and a superplex, but kicks out. White throws Harwood out and hits a suplex on Wheeler. Harwood saves Wheeler from the bladerunner. White tries to win with a rollup. Harwood tags himself in. Everyone is down. Robinson is up and tags himself in. White tags himself in after Harwood throws him into White. Doubleplex, but Harwood saves Wheeler again. Rebound Powerbomb and White kicks out of it. Lots of White kicking out.
Robinson runs in and hits a lariat. White hits the Bladerunner on Wheeler. It's now just White and Harwood in the ring and they keep going back and forth with chops. Robinson tags himself in and Harwood thinks that White is the legal man and Robinson uses that to his advantage and gets the pin on Harwood.
Winner: Bullet Club Gold
Scorpio Sky vs. Action Andretti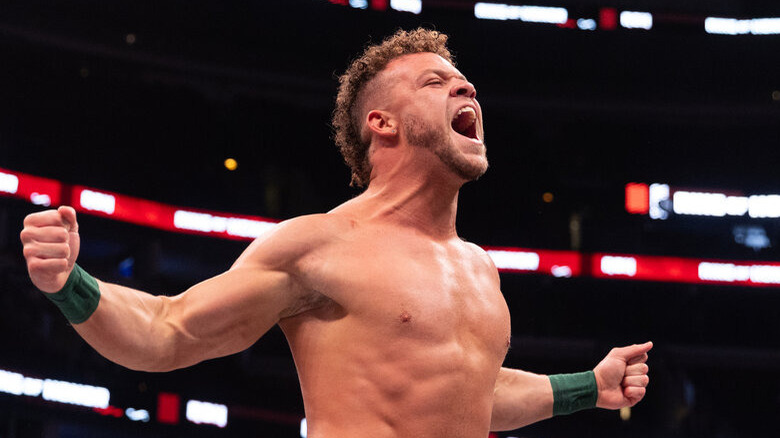 AEW
A segment about Christian Cage and Shawn Spears airs ahead of next Saturday night, which will see Luchasarus defend his TNT Championship against Spears. The show then cuts to commercials. After the break, Tony Schiavone is with FTR who just lost to Juice Robinson and Jay White. They aren't happy about losing, and matters are made worse when Bullet Club Gold comes over and teases them for losing to them. FTR says next week they will defend their AEW World Tag Team Titles against them.
Afterward, Scorpio Sky is out for a match and Action Andretti is already in the ring. They go back and forth until Andretti attacks Sky outside of the ring. He throws him back in and Andretti goes for the pin. Andretti has been taking over the match until Sky counters his move and delivers a TKO to Andretti to pick up the victory.
Winner: Scorpio Sky
Owen Hart Cup Men's Tournament Semi-Final Match: CM Punk Vs. Samoa Joe
AEW
Next up is the Owen Hart Cup Men's Tournament Semi-Final Match between CM Punk and Samoa Joe. The bell rings and the two men stare each other down. They finally lock up and Punk chops Joe. They do the test of strength, which Joe wins.
Punk has Joe in a headlock. The crowd is chanting for Punk, who hits a few chops and falls off the top rope. Joe kicks and hits Punk over and over again, but Punk gets some offense. Afterward, Punk's mouth gets busted open, but he gets a few hits in and Joe's knee goes out. Joe gets Punk in a headlock but the latter gets out of the hold.
Punk tries to kick Joe, but his opponent hits a few chops. Punk hits some knee strikes to Joe, who is in the corner, before going to the top rope and hitting the elbow drop. Punk goes for the pin, but Joe kicks out. Punk tries to go for the GTS but fails. Joe puts him in a submission lock, but Punk breaks the hold. Punk then hits a neckbreaker but Joe tries to hit the muscle buster. Punk then wins with a roll-up.
Winner: CM Punk
Post-match, Joe and Punk stare each other down. Joe shakes Punk's hand then puts him in a sleeper. He's upset over losing and has a chair. FTR comes out to help Punk before Ricky Starks comes out and stares down Punk.