Mercedes Martinez Discusses The Differences Between ROH And AEW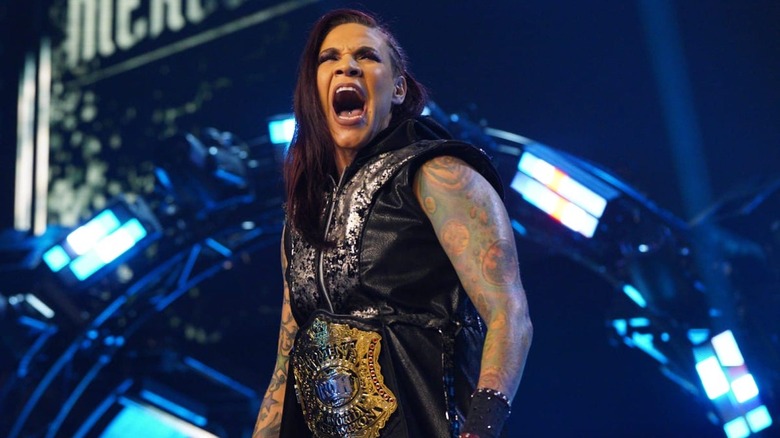 AEW
Since AEW launched "Dynamite" in 2019, then continued to expand its programming with "Rampage" and "Collision," one recurring criticism has been that the promotion doesn't spotlight their women's division enough. During a two-hour show, there's typically only one match featuring the female stars and maybe an additional promo segment. But fans have been clamoring for their incredible roster to get more TV time. 
Understandably the wrestlers want that as well, but according to Mercedes Martinez, who recently spoke on the "Desert Island Graps" podcast, the next best thing is competing on Ring of Honor.
ROH, which is under the AEW banner since Tony Khan purchased the promotion last year, offers the opportunity for AEW stars to get ring time in front of an audience and TV cameras courtesy of the weekly show on the Honor Club streaming service. That, Martinez argues, is the key difference between the two companies. 
The veteran shared that she hasn't had dream matches with opponents like Jade Cargill, Kris Statlander, or Dr. Britt Baker D.M.D. on AEW TV. However, she can have 10- to 12-minute bangers in ROH instead of the 5- or 6-minute matches she's had in AEW so far.
"There's so much potential there, but there just isn't enough time to have these matchups. Whereas with Ring of Honor, you can have those matchups. You can have matchups from outside of your roster. You can bring in people from the independents or overseas ... That's where the magic happens. That's where creativity happens. That's where the dream matches are going to happen."
While "The Latina Sensation" doesn't believe that one is better than the other, she obviously prefers to wrestle for ROH. But if Khan and company would listen to the criticisms and balance their time better, things can be just as good for the women of AEW.