Booker T Holds Back On CM Punk Vs. Samoa Joe 4 From AEW Collision Due To Friendship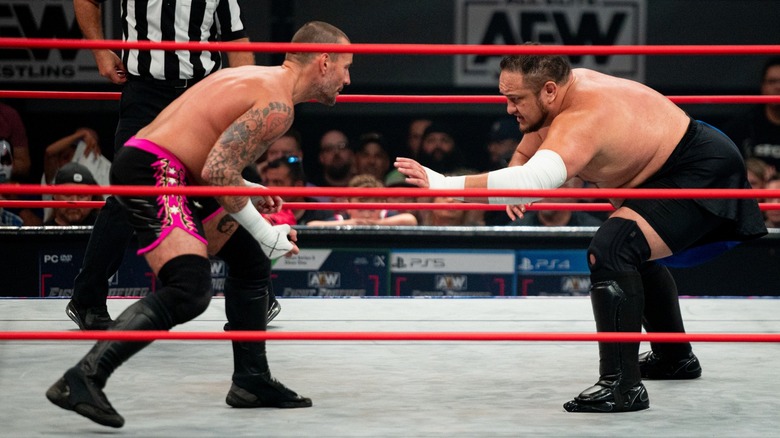 AEW
In the main event of last week's "AEW Collision," CM Punk finally defeated Samoa Joe in a rematch nearly 20 years in the making. The highly anticipated match-up hit a lot of the right notes for many fans that have followed this rivalry since their well-remembered trilogy of matches from Ring of Honor in the early 2000s. But as with all art, wrestling is subjective and not everyone is going to like the same things.
During a recent episode of "The Hall of Fame," Booker T was hesitant to share all of his thoughts regarding the long-awaited collision between Punk and Joe. However, while he compared this encounter to their previous outings in the squared circle, the veteran was empathetic toward the desire to run it back on classic moments.
"I'm gonna reserve my opinion because I like Samoa Joe. He's a friend of mine. CM Punk is a guy that I have no ill will towards as well," Booker explained. "I'm gonna say this about the match ... It's so hard to go out there and recreate something that you did once upon a time and top what you did once upon a time. Trust me. The best-of-seven series when I did it in WCW was one thing, but [in] the best-of-seven series in WWE, my bones was like, 'What the hell am I thinking?' That's what it looked like to me. It looked like those guys are like, 'Man, this ain't like it was in our 20s.'"
Punk's win catapulted him into the finals of the men's Owen Hart Foundation tournament where he will meet Ricky Starks this Saturday on "Collision."