Johnny Knoxville Won't Bury The Hatchet With Sami Zayn In WWE, Except For In His Back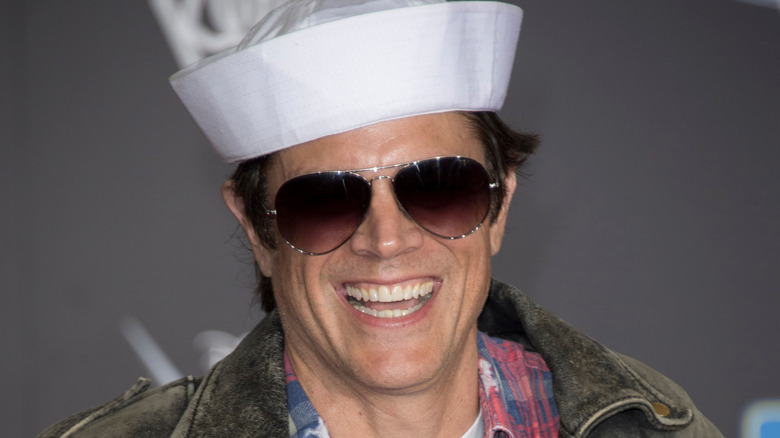 Eugene Powers/Shutterstock
Johnny Knoxville stopped by "The Bump" today to help celebrate Sami Zayn's birthday in a way that only Zayn's eternal rival could. So contentious was Knoxville, that he was asked about whether he could find a way to make amends with the former "Honorary Uce."
"Bury the hatchet?" Knoxville asked, apoplectically. "The only hatchet I would bury is in his back." The segment soon moved on to fan questions, which kicked off with a fan asking if Knoxville would ever team with the current WWE Undisputed Tag Team Champion. "I don't know," Knoxville confessed. "That would be an extraordinary event. Never say never but god I never want to be on the same side as Sami." Knoxville soon conceded that he would stand "side by side" with Zayn, but only if the two were on the side of a volcano.
Knoxville then goes on to give Sami a "birthday present" by putting a Sami Zayn action figure in a blender, to little effect. When that didn't work, he tossed the action figure on the ground, threw the blender on top of it, and then delivered an elbow drop to the pile of glass and plastic. Knoxville does fondly remember his match with Zayn at WrestleMania 38. Knoxville was able to defeat Zayn in a wacky match that included numerous, ludicrous props and traps, and help from members of the actual cast of "Jackass Forever," including a moment where Wee Man body slammed Zayn to the delight of fans and Knoxville.
If you use any of the quotes in this article, please credit "The Bump" and provide a h/t to Wrestling Inc. for the transcription.