Heels' Alexander Ludwig: 'This Is The Most Pain I've Ever Been In Shooting Anything'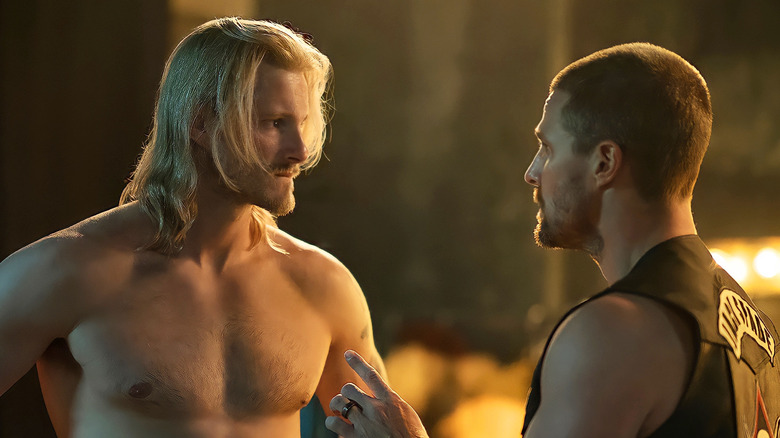 Starz
The season two premiere of "Heels," Starz's wrestling-centric drama, is a couple weeks away, which means its stars are doing a press tour. This included a media call, which has been posted to WrestleZone's YouTube channel, and opened up with a question from Fightful asking stars Stephen Amell and Alexander Ludwig if their training changed for season two. Amell said that his training hadn't changed much, though he enjoyed improving his fundamentals, while Ludwig went deeper.
"It was a very steep, steep learning experience for me," Ludwig explained. "Fortunately, we have an incredible stunt team, and incredible pro wrestlers behind us, but you can't really fake this. There's certain stunts, where producers obviously don't want you to do [them], because they don't want you to get injured, but when you're wrestling in a ring, there's only so many positions you can put a camera in. So Steve and I have to do everything ourselves."
Ludwig added that much of the training was more about conditioning their bodies to withstand punishment in the ring than getting muscled up for the cameras. "I gotta say, this is truly the most pain I've ever been in shooting anything, because my body wasn't used to this," he said, noting that Amell had a small amount of prior pro wrestling experience. "I think [wrestlers are] nuts. I think they're absolutely crazy. It's an insane sport and I love every minute of it." "Heels" season two premieres on Starz July 28 at 10 PM ET.