Matt Hardy On Being Proud Of AEW's Stadium Stampede Match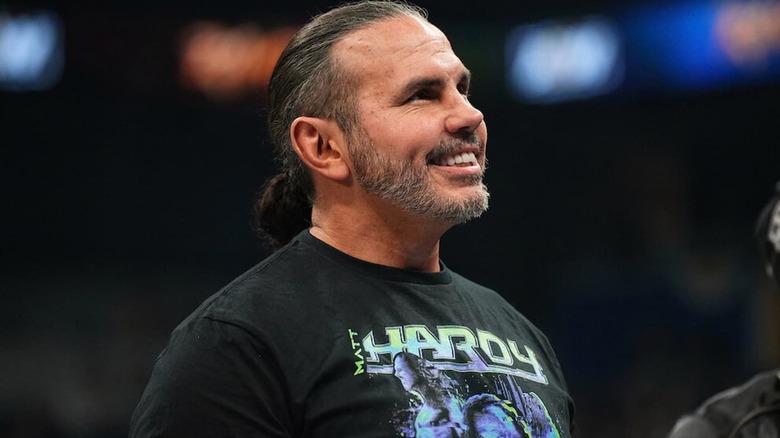 AEW
A professional wrestling veteran of 30-plus years, Matt Hardy has made quite a name for himself across WWE, ROH, TNA, and now AEW. Yet no matter how long he's wrestled, he cannot help but beam with pride whenever the topic of his Double or Nothing Stadium Stampede Match from 2020 surfaces. In a recent interview with the Daily Mail, he discussed one of the most creative matches to come out of the pandemic era.
"I mean, that's something I am extremely proud of. I think the Stadium Stampede is one of the best things that came out of the pandemic," Hardy stated. "I remember when Tony Khan proposed the match initially, we weren't sure what it was going to be"
The five-on-five match itself lasted nearly 34 minutes(45 minutes altogether, according to Hardy), with him and The Elite — Adam Page, the Young Bucks, and Kenny Omega — picking up the victory over The Inner Circle, a stable led by Chris Jericho at the time. Taking place inside an empty TIAA Bank Field, the match wasn't without its detractors. While a drowning spot drew most of the ire, Jericho expressed in the aftermath that had they redone the match, certain aspects would've changed.
Nonetheless, everyone involved made the most of it, and Hardy couldn't be prouder of it. "We would just use the Jaguars stadium to our advantage, and I look back at that, and I'm very, very proud of what we did," he continued. "It was very special, especially when the world was in such a strange, weird place, and I feel like it was important for us to entertain people. It was like the best escapism you could possibly have, the Stadium Stampede."