The Miz Describes The 'Youth Movement' Going On In WWE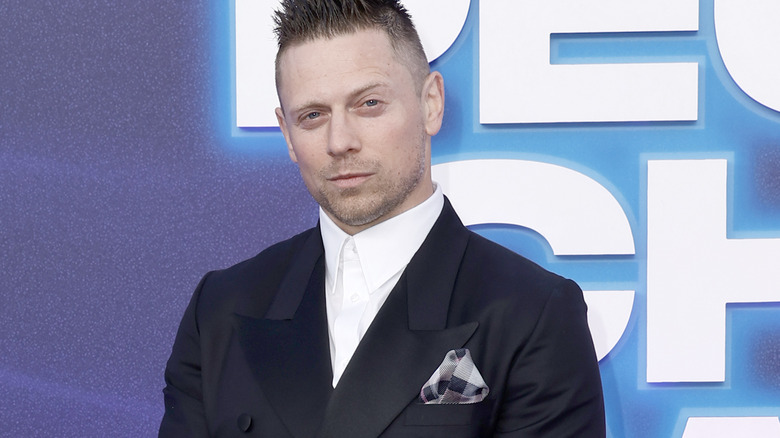 Frazer Harrison/Getty Images
As The Miz soon approaches his 19-year WWE anniversary, he shows no signs of slowing down anytime soon. In fact, Miz says he's still in his prime. "I feel like I'm putting together matches that are main-event caliber. I feel like I'm bringing out new things, things that people haven't seen before," he told "Busted Open Radio." What keeps Miz motivated though? Speaking further on the topic, the two-time Grand Slam Champion revealed that his durability can partially be attributed to the ongoing "youth movement" in WWE. "The younger crowd that's coming in is revitalizing me and making me want to be faster, be better, do better. And I think the product right now is at its highest," he said.
In analyzing some of the key players in the "youth movement," Miz pinpointed Dominik Mysterio as "the most over heel in professional wrestling" today. Since joining The Judgment Day last year, Mysterio has transformed himself into an ultimate heat magnet, as he is often greeted by deafening boos from fans. For someone like Miz, who's portrayed a heel for most of his career, Mysterio's recent run has been nothing but awe-inspiring. "You look at Dominik and what he's doing right now, it's impeccable. He can't even get a word out. That's how much heat he has, and so, it is fun to watch. It motivates me," Miz said.
Miz later went on to praise Mysterio's Judgement Day cohorts Finn Balor, Damian Priest, and Rhea Ripley. In regard to Balor, Miz issued special applause for his ring gear, promo abilities, and his overall in-ring repertoire. And while Ripley may be "a force to be reckoned with," Miz has been keeping an eye on Bianca Belair and Becky Lynch as well. Within the men's division, Miz also shouted out Cody Rhodes, Roman Reigns, and Seth Rollins for their efforts in making WWE an enjoyable product.
If you use any quotes from this article, please credit "Busted Open Radio" with a H/T to Wrestling Inc. for the transcription.