AAA TripleMania XXXI: Tijuana: 3 Things We Hated And 3 Things We Loved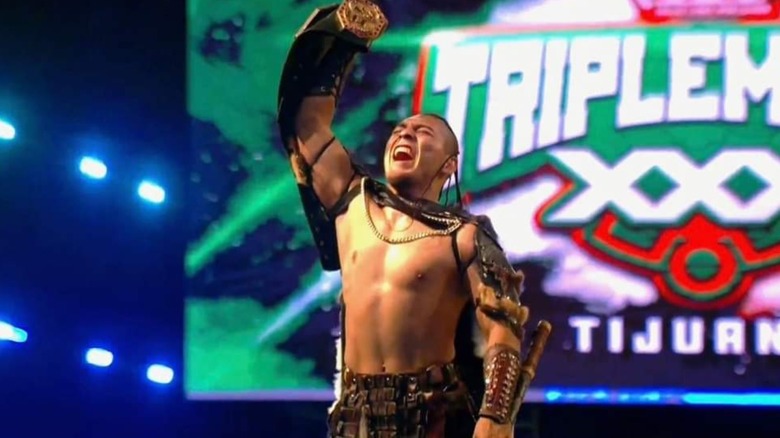 AAA
It's nearly 2 a.m. over here on the East Coast, the optimal time for one to go to sleep. Not right now though, because Lucha Libre AAA's TripleMania XXXI: Tijuana, the second of three TripleMania's held this year, just finished up a little less than an hour ago. Taking place on a crowded Saturday evening that featured "AEW Collision," "AEW Battle of the Belts," and Impact Slammiversary, the AAA showcase still had a lot of buzz, thanks to the main event match between El Hijo del Vikingo and Kenny Omega, and the question of whether or not AEW star Rush would show up for his scheduled semi-main event tag team match.
Now if what you're seeking is a straight run down of the show, our live coverage of TripleMania is available right now for all to read. But if you want more than just the facts regarding TripleMania, well there's good news; we here at Wrestling Inc. have a lot of opinions on the show, including its awesome main event and it's not so awesome everything else. Here lies three things we loved and three things we hated about TripleMania XXXI: Tijuana.
Loved: Kenny Omega vs. El Hijo del Vikingo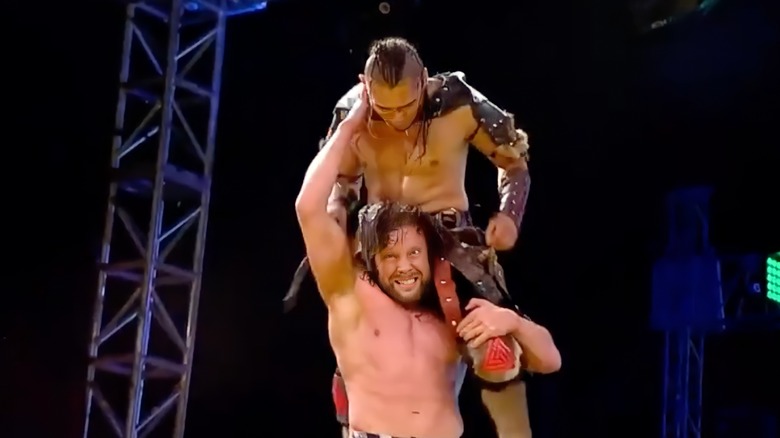 AAA
For many people, the Kenny Omega-El Hijo del Vikingo match, which closed TripleMania tonight, was the main reason to tune in. After all, it featured Omega, one of the most beloved top stars in North American wrestling today, and was a rematch of a March "AEW Dynamite" match that, to this day, is considered one of the best matches seen this year. Even if one was higher on tonight's card than most, a quick look was all one needed to see that Omega-Vikingo was the biggest draw for North American fans, and the only question was how awesome it would be.
The answer? Pretty awesome. While the first match was strictly a Vikingo showcase, with Omega serving as a base for Vikingo's high-flying offense, here was more 50/50 contest, with Omega delivering some vicious offense while Vikingo tried to counter with his gravity-defying aerial assaults. As a result, there was less innovation that we saw in the first match and more balance, more V-Triggers, more Omega powerbombs, and still plenty of spectacular moments. Was it better than the first match? Probably not, but it's not a crime to not be as great as one of the best matches of the year. Ultimately, this was still a worthy sequel, with the right winner, and a whole lot of fun to be had, which is more than some could say for everything else on this show.
Hated: The Booking
Anyone who has paid even a lick of attention to AAA knows that the promotion can be a bit of a mess, even with some of the talent they have. Tonight, outside of the main event, was no exception. AEW stars Penta El Zero Miedo and QT Marshall worked their butts off in an ambulance match that really didn't need an ambulance. Rush did wrestle on the show, in a match where he and partner LA Park, as well as opponents Psycho Clown and Sam Adonis, seemed to go from intentionally trying to lose to trying to win. Lower on the card, guys like Willie Mack and Jack Cartwheel disappeared into never-ending bouts like Copa TripleMania and the snoozefest that was the Vampiro/Pagano storyline, the luchadoras, seemingly marginalized as always, were thrown out there with no stakes and little reason for fans to care, and perhaps most egregiously, the AAA Tag Team Champions, Arez and AEW star Komander, were deemed worthy of only a brief run in, and not a match, despite being two of the promotion's most talented workers.
With the amount of talent on tonight's TripleMania, it would seem impossible for AAA to have only one good to great match. And yet, that's what they had, with every other match ranging from disappointing to miserable to never-ending to quoting lyrics from suicidal Coheed and Cambria songs. The talent was there for the matches to be good; the booking, however, was not, a consistent problem for AAA in the year 2023. It's very ironic, as AAA is booked by lucha libre legend Konnan, a man who has largely been behind AAA creative for the last two decades, and someone who isn't afraid to criticize every AEW and WWE booking decision under the sun, even as he relies on AEW and Tony Khan to provide him with talent such as Omega, Marshall, Rush and others. With shows like this, one has to wonder when Konnan will stop trying to create hot takes with Disco Inferno, and start looking in the mirror regarding his own booking pitfalls.
Loved: Joe Dombrowski and Larry Dallas
For years, even when AAA was good, one of the low points of a major show like TripleMania would be that the English commentary was atrocious, to the point that it would drive off fans. So it's almost appropriate now, as AAA becomes harder and harder to watch, that the English commentary would now be good. And that's been the case over the past year, after former Dragon Gate color commentator Larry Dallas was brought in to call the action alongside MLW announcer Joe Dombrowski, who had previously called TripleMania in 2019. 
The duo haven't had it easy; not only have they done most of these broadcasts remotely, at times being caught unknowingly on camera, but they've had to call the action of a promotion that changes things on a whim, and whose production isn't exactly the best (more on that soon!). And yet, Dombrowski and Dallas have consistently remained a strong aspect to the broadcast, providing a good knowledge base, good banter, and a complete awareness that they are on a wild, wacky ride. Tonight was no exception, and even when the action in ring was disappointing, Dallas and Dombrowski were doing all they could to make it seem more respectable than it was.
Hated: The Production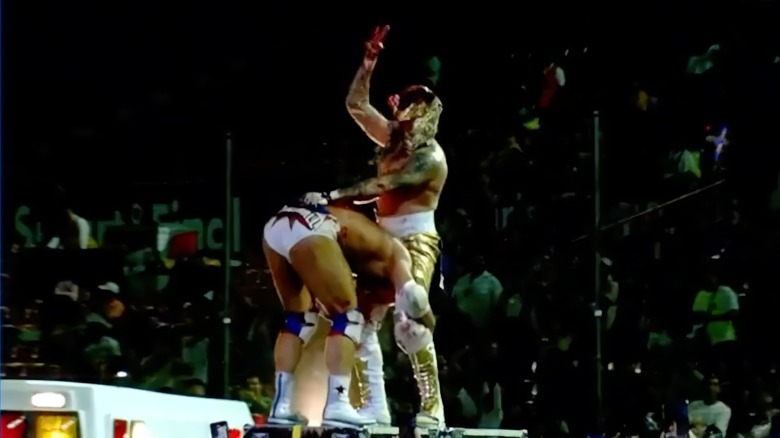 AAA
This isn't a state secret, but no promotion has worse production than AAA, a sad fact when you consider that AAA believes its competing with the AEW's, WWE's, New Japan's of the world. The reality is they can't even hold a candle to their own competition in Mexico, CMLL. In recent years, AAA has picked up the worst tendencies of WWE production, with so many rapid cuts that Baz Lurhman would say enough, a tendency to miss shots, and an English commentary feed so muted that crowd noise could barely be picked up. And even if it was, it couldn't be heard anyway, thanks to AAA's genius idea to have Spanish commentary by Jose Manuel Guillen and Hugo Savinovich play over the sound system in the arena.
All those problems were on display tonight, along with new ones. The camera cuts were so rapid, that one Rush-Sam Adonis strike exchange may have given everyone who watched it whiplash. The crowd was still muted. Shots were still missed. But the most unbelievable sign of how bad AAA's production is came during the Penta El Zero Miedo-QT Marshall ambulance match, where the two brawled to the ambulance...and none of us got to see it, because AAA couldn't properly set up a camera crew near the thing the whole match was based around. Even though the mistake was later corrected, one couldn't help but laugh. There will always be production mistakes in major wrestling companies, but when it comes to AAA, TripleMania tonight confirmed they continue to operate on a higher level of mediocrity than others.
Loved: Brandon Moreno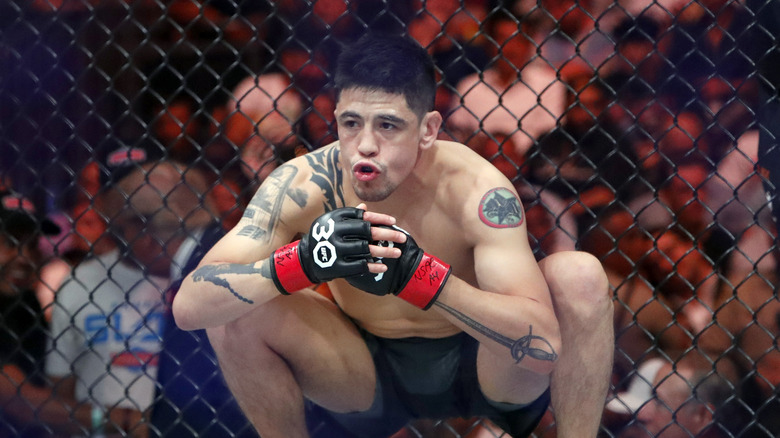 Steve Marcus/Getty Images
Of all the non Vikingo-Omega matches on the show, the one that was the least disappointing/bad/"please, end this now," was the Team Chilango vs. Team Tijuana Atomicos match, featuring the likes of Negro Casas, former WCW stars Nicho El Millionario and Damian 666, Daga, and a few others. The action itself was merely fine, but what made it noteworthy was the appearance of UFC star Brandon Moreno. It was just a week ago that Moreno lost the UFC Flyweight Championship, breaking his hand in the process, but the Tijuana native still showed up to corner Team Tijuana tonight.
In the process, he wound up stealing the show. Not only did Moreno get physical despite his injury, but he looked great, delivering some great MMA style offense to Daga before putting him in an armbar. It was also teased that this wouldn't be a one-off, with a potential for Moreno to possibly follow in Cain Velasquez' footsteps in jumping from the octagon to lucha libre. Certainly Daga deserves a ton of credit for his performance with Moreno, but there was little doubt that Moreno had a feel for lucha libre tonight, and proved to be a legitimate bright spot in a show with not too many.
Hated: The Cop Out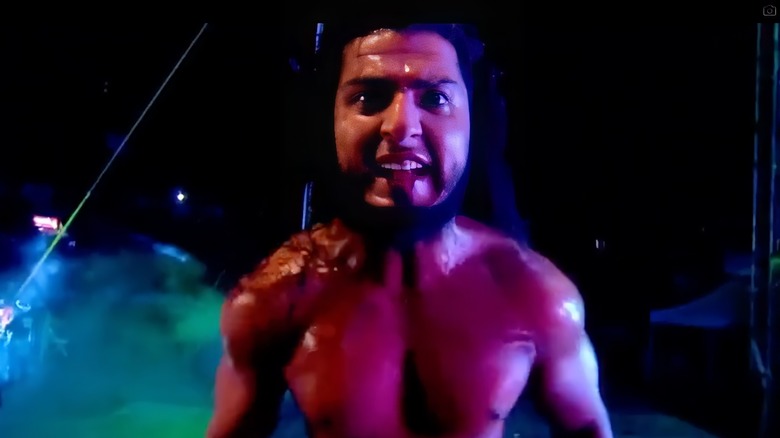 AAA
Lost in all the hooplah around "will Rush show up or not?" was the fact that his scheduled match, teaming with long time rival LA Park against Sam Adonis and Psycho Clown, was a super intriguing bout, not only because the losing team would go on to wrestle in a mask vs. hair match at TripleMania XXXI: Mexico City next month, but also because all four men vowed to make sure their team lost the match. As such, it was a match that had so many interesting layers, from who would win, to how the match would play out, to how AAA would get out of doing Park vs. Rush, a match fans many fans want, in order to do Adonis vs. Psycho.
In the end, we got a cop out instead, with Rush and Adonis both scoring simultaneous pinfalls on Psycho and Park to set up a four-way match in Mexico City next month. How much flatter of a finish can you get? Some fans would've been disappointed in Psycho vs. Adonis, but it's also been accepted that Park vs. Rush was unlikely to happen, so the disappointed would've been blunted. As such, this finish felt like AAA trying to please everyone, and in the end it pleased nobody. It also doesn't help that the finish set up a match that will likely be similar to the one we just saw, as tonight's match was essentially a four-way. Just another sign that the AAA of 2019 isn't coming back any time soon.