Kurt Angle On The Idea Of A Proper TNA Program Between Him And Sting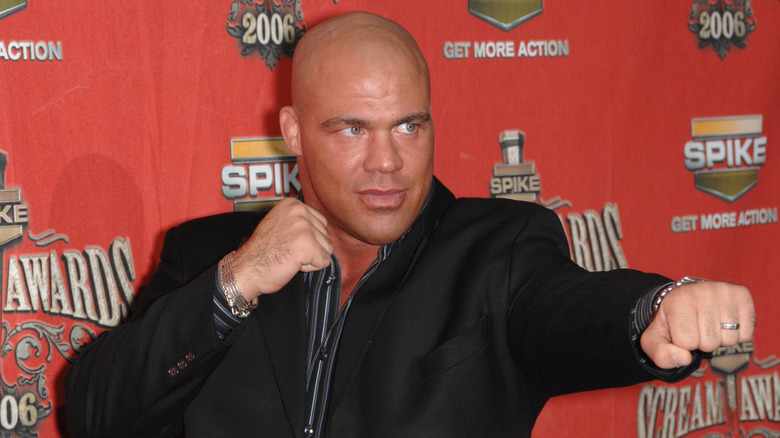 Featureflash Photo Agency/Shutterstock
Kurt Angle has wrestled a hefty number of legendary wrestlers, but there's one fellow TNA legend that Angle wishes he'd encountered more. "They never talked about Sting and I, and it's really surprising," Angle said on the latest "Kurt Angle Show." Both WWE Hall of Famers overlapped in TNA, with Sting there from 2004-2014, and Angle from 2006-2016. "I rarely wrestled Sting in TNA. I mean we should've had a big program between the both of us. You could've made a lot of money with Sting and Kurt Angle going at it and it was never talked about which I'm surprised."
"The Icon" clearly made an impression on Angle, who described the multi-time WCW World Champion as "incredible" in the ring. The two finally had a big steel cage match, but Angle was disappointed with it not being a pay-per-view bout. "Sting vs. Kurt Angle in a steel cage. Free TV. What the hell were they thinking?" Angle bemoaned. "It really does make me think, what they were thinking at that particular time. Were they just trying to get a rating on TV? I don't know."
Angle added that it's "a damn crime" that he didn't get to wrestle Sting when he had the opportunity. Angle is currently retired, wrestling his final match at WrestleMania 35 in a losing effort to Baron Corbin. Sting however is still wrestling to this day, diving off balconies and ladders alongside his protege Darby Allin in AEW.