AEW Collision Rating Flat Overall, Down In Key Demo For Owen Hart Tournament Finals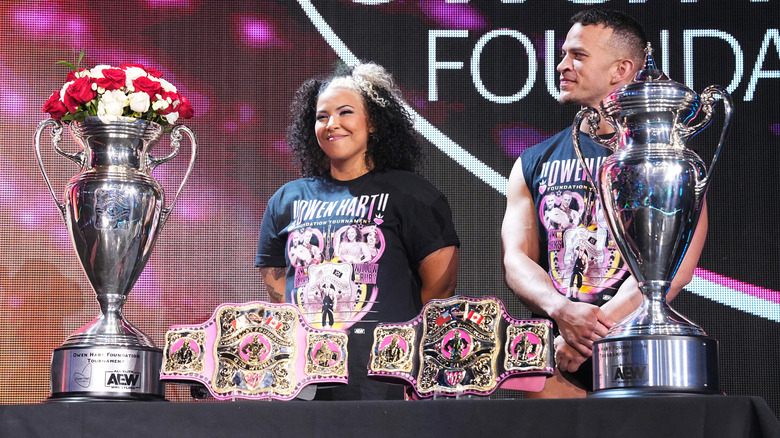 AEW
Saturday's "AEW Collision," the fifth episode to date, was, in theory, the biggest so far, featuring not just the finals of the second-annual Owen Hart Foundation Tournament, but also FTR's 2/3 falls tag team title defense against Bullet Club Gold. With the rating having rebounded in week four after a sharp drop in week three, and the tag title match taking up half the show, how did Saturday's "Collision" from Calgary do?
According to Wrestlenomics' Twitter and Patreon pages, the July 15 "Collision" averaged 579,000 viewers (flat with the previous week), approximately 258,000 of which were in the "key demo" most valued by advertisers, adults aged 18 to 49 (down 8% from the week prior). The latter figure translates to a 0.20 rating in 18 to 49; no comparative ranking information is available for Saturday's cable shows as of this writing, although AEW CEO Tony Khan noted on his media call Tuesday afternoon that both "Collision" and the Battle of the Belts special that followed were in the top five on cable for the day. Battle of the Belts averaged 524,000 viewers, approximately 196,000 of which were in the key demo. The latter translates to a 0.15 rating in 18 to 49.
According to the quarter-hour ratings reported on Wrestlenomics' Patreon page, the audience held fairly steady throughout "Collision," including during the 58-minute tag title match, which peaked in the third quarter, the only one without a commercial break. Overall, the show peaked with the CM Punk vs. Ricky Starks main event, which also showed the largest quarter-to-quarter gains. Battle of the Belts, on the other hand, declined consistently throughout the show. For a more extensive picture, the Wrestlenomics Patreon page tracks how "Collision" did in various demographics in relation to the median of the prior four weeks' numbers. By that metric, more than half of the demos being tracked moved within Nielsen's 10% margin of error, with those that moved past 10% all losing viewers. The biggest percentage hit came in adults 18 to 34, which was down 19%.