Matt Cardona Says His Luggage Broke After Winning 8th Championship At House Of Glory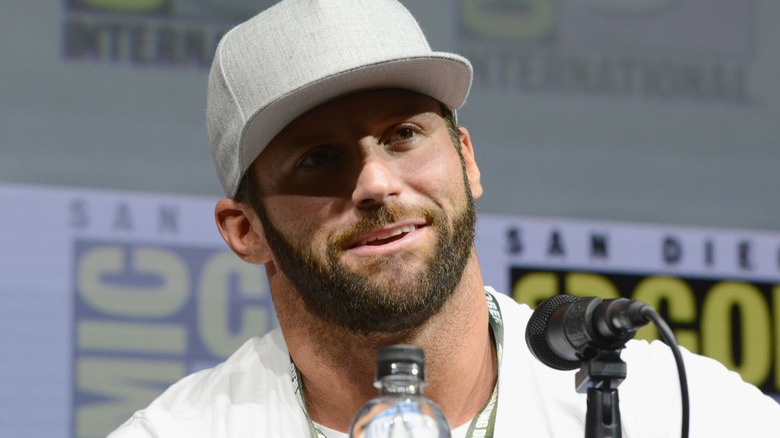 Albert L. Ortega/Getty Images
It ain't easy being "The Indie God," but that's not stopping Matt Cardona from pulling it off. The former GCW and NWA World Champion continues to have independent wrestling success, currently holding six titles in six different promotions, with a date at Major League Wrestling's Fury Road on the horizon. All that success, though, can make it harder to travel, especially when Cardona was doing so while holding eight independent titles. On "Ten Count," Cardona revealed all that gold led to an unfortunate luggage mishap.
"The past couple of weeks, I've had some bad luck with luggage," Cardona said. "It's true. After I won the House of Glory Championship, that was my eighth championship, and my bag literally broke."
After making a public appeal to Tumi to create an "Indie God" custom luggage bag for him, Cardona went on to explain just how much luggage he brings with him for travel.
"I travel with four bags," Cardona said. "It's unbelievable. I have one bag with my clothes and my normal stuff in it. I have my bag with my gear and my belts ... Then I have a bag which is basically my portable mall. Everything I sell at my gimmick table.
"Then I have this case which looks like I carry a gun in it. I actually got stopped by TSA. They held my bag back. I was waiting at the conveyer belt. It didn't come around. I went, 'Ah s**t.' I went to the baggage, they had it back there, they thought it was a gun. It's my Death Match King Crown. So yeah, a lot of bags that I travel with."
If you use any of the quotes in this article, please credit "Ten Count" and provide a h/t to Wrestling Inc. for the transcription