Bully Ray: The Usos Are The Greatest Tag Team In WWE History & No Other Team Can Claim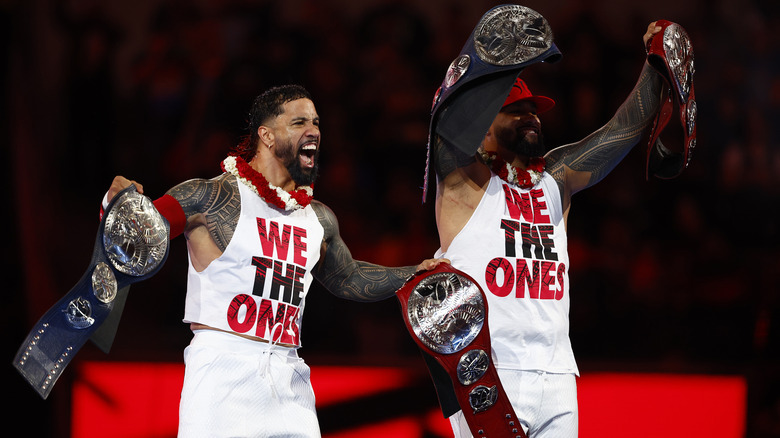 Ronald Martinez/Getty Images
Bully Ray is once again singing the praises of Jimmy and Jey Uso. On the latest "Busted Open Radio," Bully made the case that the former Bloodline members are in the middle of a historic run that puts them head and shoulders above the teams of WWE's past, including The Dudley Boyz.
"It's not even a thought for me anymore," Bully explained, "to me [the best tag team in WWE history is] The Usos and the reason is because when you look at the numbers of what The Usos have accomplished, I don't think any other team can stake their claim. The most decorated teams of all time in the WWE, Hardys, New Day, Dudleys ... we can look at the amount of times a team has won a championship and that's kinda apples to apples. We can look at what kind of matches or memorable matches teams have had, all this stuff and everything is a bit of a wash when it comes to the upper-echelon of teams in the WWE. The Usos are involved in an A-storyline, that is generating major money for the WWE."
Bully says that the Bloodline story wouldn't work without the twins, noting that they're the only traditional tag team to main event a WrestleMania, something the Road Warriors, the Hardys, Edge and Christian, and other teams never accomplished. Bully also notes that the Dudleys never main-evented a WrestleMania either.  "To me, Jimmy and Jey Uso, greatest tag team in the WWE and they're not even close to calling it quits," Bully said adamantly.
If you use any quotes from this article, please credit "Busted Open Radio" with a H/T to Wrestling Inc. for the transcription.