Tommaso Ciampa Discusses Possible DIY Reunion, Dream Match For WWE Stable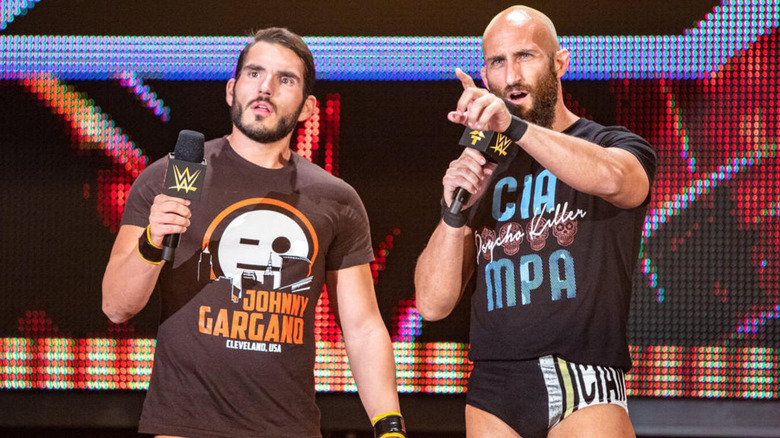 WWE
Tommaso Ciampa spent nearly nine months on the sidelines while recovering from a hip injury, and used that time away to cook up plenty of ideas for his return. Now that the former two-time "WWE NXT" Champion is back on "WWE Raw," Ciampa said he's got a list of tag teams for DIY to face if he and Johnny Gargano reunite for another run on the main roster.
Speaking with Ryan Satin on the "Out of Character" podcast, Ciampa said another run with Gargano, his long-time tag team partner in and out of the WWE, "would be amazing." "All I've got is time and ideas," Ciampa said while revealing that he brainstormed a list of potential teams he and Gargano could take on in WWE.
"The one that jumps a lot is Sami and Kevin," Ciampa said, noting there are parallels between the two teams. "We could have so much fun too with that smarter fanbase," he added. "There's always that underlying, can Johnny trust me? And can Sami trust [Kevin Owens]?" 
Ciampa and Owens have turned on their partners a number of times, which both date back prior to their careers in WWE, most notably with PWG. "That would be such a dream match for us, let alone just fans," Ciampa said. 
He added that he would also want a reunited DIY to square up with The Usos, The New Day, and the Viking Raiders.
"Johnny and I have a real passion for tag team wrestling and the psychology of it and making it mean something," he said. "It could be a special run, so I definitely am open to it. To be honest, I just want so badly to stay healthy and get the opportunity to just tell great stories and have great programs."