Shawn Michaels Reflects On 10 Years Of The WWE Performance Center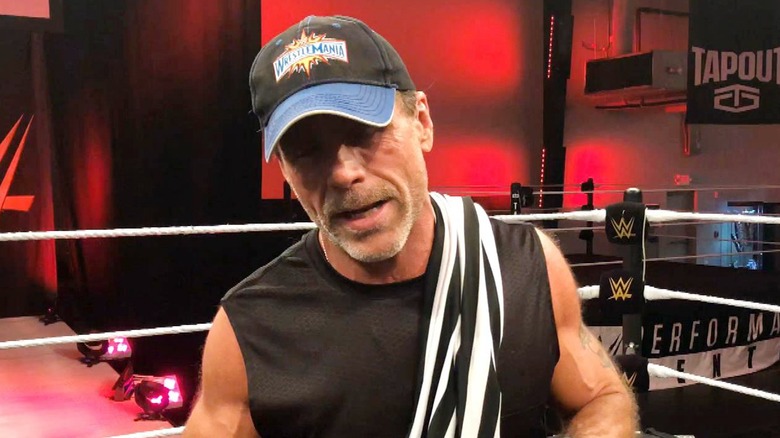 WWE
Earlier this month, the WWE Performance Center turned 10 years old, marking a full decade since WWE brought its talent development program entirely in-house. With just a few exceptions, the majority of talent who's joined WWE since July 2013 has had to spend time training at the Performance Center and/or wrestling on "WWE NXT" before moving to the main roster. For about half that decade, Shawn Michaels has been one of the key coaches while also being involved in "NXT" creative,  eventually receiving a promotion to Senior Vice President of Talent Development Creative in 2021. Recently, to discuss the anniversary, Michaels appeared on "Sports Guys Talking Wrestling," where he labeled the program an unqualified success.
"I would say 98% of the main roster has got to be people who came through the 'NXT' system," Michaels said. "Ultimately, you have to come to the conclusion that it was a success. Look, yes, [Paul Levesque]'s my best friend, but I'm telling you, as a best friend I can't stand having to give him too many compliments, but the reality is what he built here is indeed a success. And I think you see that throughout WWE, and as you said, even in the business as a whole, there are a lot of people that are on top of other organizations within the wrestling industry that have all, at least at one time or another, came through 'NXT.' I couldn't be more proud of him."
Technically speaking, of the current main roster champions, Seth Rollins and Roman Reigns both joined the main roster before the Performance Center opened, having worked a few months of "NXT" shows during the year where WWE had taken developmental TV in-house but still contracted Florida Championship Wrestling to handle training. And of the champions at the time of the interview, only Liv Morgan had no prior wrestling experience before signing with WWE. That said, Michaels also stressed that the athletes they've recruited without wrestling experience are thriving, singling out what the Creed Brothers, Bron Breakker (who comes from a wrestling family), Tiffany Stratton (who had prior training), and Kelani Jordan have already accomplished.
If you use any of the quotes in this article, please credit "Sports Guys Talking Wrestling" with an h/t to Wrestling Inc. for the transcription.