Kyle Fletcher Says Lack Of Stability From NJPW Forced Aussie Open To Explore Options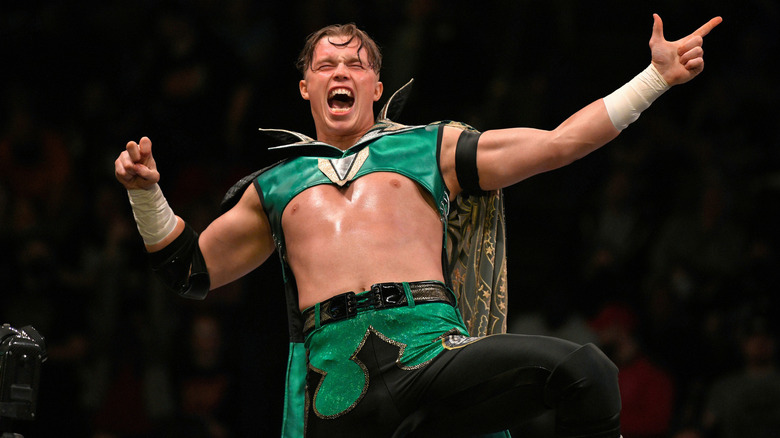 AEW
A couple months ago, AEW announced, somewhat out of left field, that Mark Davis and Kyle Fletcher, best known as Aussie Open in NJPW, had signed with the company, complete with "All Elite" graphic. This was surprising because they were a pushed, title-holding act in NJPW, an AEW partner promotion, and maintain a presence there. The implication, since it came on the heels of Davis suffering an injury was, seemingly, that they may not have had a contract and/or injury protections with NJPW. On the latest "AEW Unrestricted," Fletcher confirms at least some of that speculation: Aussie Open were not under contract to NJPW and needed more stability.
"The beginning of this year was very much a [situation of] 'OK, let's assess where we are with everything, what's happening, and let's weigh our options,'" Fletcher said. "So we were pretty happy in Japan, but not to say too much, we wanted a contract, right? We wanted that stability. I've been wrestling for 10 years, Davis has been wrestling for longer than that, we've been independent wrestlers for that whole time. So we never really had the stability and that's something we really wanted. We told New Japan this, and it was very much a 'yes, but not now' type of thing." NJPW had been a huge goal of his and Davis', but without a contract, they decided to explore the free agency market, and AEW just made sense.
"We've worked for AEW, and we've really enjoyed the environment there," Fletcher continued. "Also, the fact that there is still a New Japan relationship was also a big deal. The fact that AEW guys have been able to do New Japan stuff." Both promotions were happy to let them keep working for the other, so with there being plenty of exciting matches for Aussie Open in AEW along with the included television exposure, that's where they elected to sign.
If you use any of the quotes in this article, please credit "AEW Unrestricted" with an h/t to Wrestling Inc. for the transcription.