LA Knight Reportedly Has Management's Support But Backstage Approach Is A Concern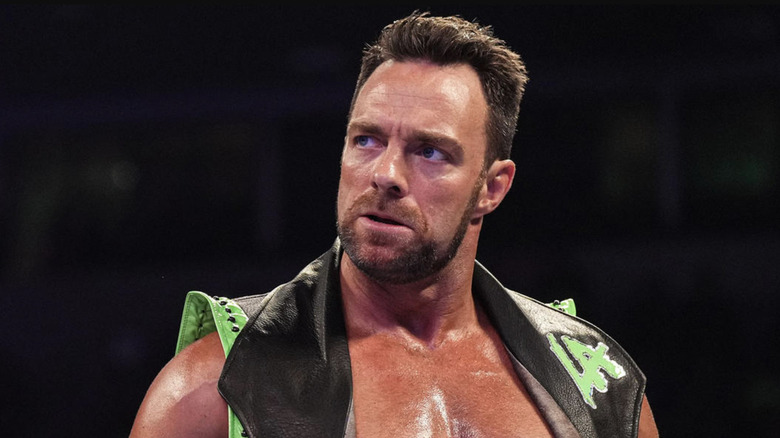 WWE
As LA Knight's popularity continues to rise, there was a belief among fans that he would be next in line for a shot at Austin Theory's United States Championship. That ended up not being the case coming out of the July 21 episode of "WWE SmackDown" when Rey Mysterio won the U.S. invitational four-way match that also involved Knight, Sheamus, and Cameron Grimes.
Despite coming up short, PWTorch is reporting that Knight is slated for a push in late summer into fall. Their sources say Vince McMahon has become a fan of Knight, while Triple H already has been considering his usage on "WWE NXT" in 2021 upon being brought back to the company.
However, the report does state that Knight has a history of rubbing people the wrong way behind the scenes, as well as being "bad at backstage politics." Even though he may not give off a great first impression to everyone he meets, his crowd reactions and social media popularity have reportedly put him on management's radar for a potential push after SummerSlam on August 5.
The 40-year-old has experienced championship success outside of WWE as a former Impact World Champion and former tag team champion in both Impact and NWA. During his latest "NXT" stint, Knight was involved in a lengthy rivalry with Cameron Grimes over the Million Dollar Championship. The angle saw "The Million Dollar Man" Ted DiBiase return for several appearances.
Knight's main roster run did not start off well as he was repackaged as Max Dupri alongside The Maximum Male Models. Once Vince McMahon stepped down from creative control and Triple H filled the role one year ago, Knight eventually reverted back to the gimmick fans are raving over now.