Matt Cardona Wins DDT Universal Title And Says He Taking Over The World Of Wrestling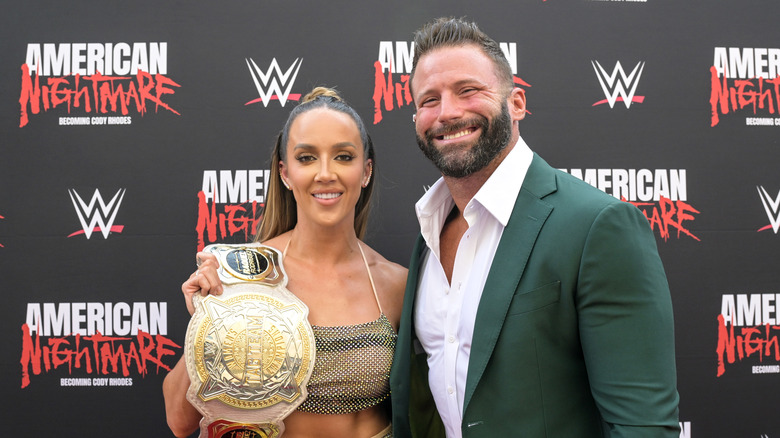 Wwe/Getty Images
Matt Cardona became the new DDT Universal Champion on Sunday, July 23 at the DDT Pro Wrestling event, Wrestle Peter Pan. Cardona became the new champion after he defeated Tetsuya Endo. As a result of his victory, Cardona now holds seven different championships, including the House of Glory Heavyweight Championship, the Squared Circle Expo Title, and the World Series Wrestling World Heavyweight Championship.
After the DDT Pro Wrestling event, Cardona, alongside Steph De Lander, said in a press conference that he was taking over the world, specifically mentioning England, the United States, Australia, and Japan as places he's conquered. Cardona went on to mention his wife, Chelsea Green, recently capturing the WWE Women's Tag Team titles, which he said makes him "half of a half." He also called out the former champion, Tetsuya Endo and Maki Itoh.
While Cardona is a champion in several promotions, he nevertheless donned an interesting choice while at the DDT event — the WWE Women's Tag Team Championship. At first, fans thought it was the real title that his wife and WWE Superstar Chelsea Green currently holds. However, Green made it clear on Twitter, that the WWE title Cardona had was simply a replica.
"A REPLICA. You really think I'm letting him touch my most precious piece of jewelry? NOT A CHANCE," tweeted Green.
Green currently holds the WWE Women's Tag Team Titles with Sonya Deville. They have only been the champions since the July 17 episode of "WWE Monday Night Raw," where they defeated Liv Morgan and Raquel Rodriguez.