Video: Heels Season 2 Teaser Gives Another Look At The Action Before Friday Premiere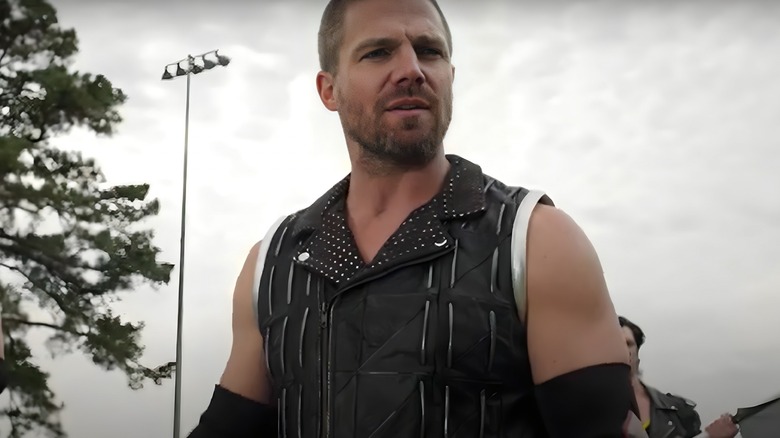 STARZ
It's been almost two years since "Heels" Season 1 ended and left fans wondering about the fallout from the dramatic finale. The good news, though, is that the long-delayed new season is on the way, and STARZ has released a second trailer ahead of its premiere this Friday.
The first trailer for "Heels" Season 2 showed Jack Spade (Stephen Amell) experiencing an existential crisis following Staci's (Alison Luff) decision to take a break from their marriage. The second trailer, however, shows him in higher spirits as he cuts promos on top of a military tank and listens to Bill Hancock (Chris Bauer) recall stories about losing things in Ninja Turtles.
That being said, Ace Spade (Alexander Ludwig) will be dealing with some woes in "Heels" Season 2. In the Season 1 finale, he learned that his brother was the mastermind behind the Kleenex incident that led to the fans mocking him. Naturally, he wasn't happy about that, and his goal moving forward is to find a new destiny away from the squared circle.
Elsewhere, Crystal (Kelli Berglund) looks set to embark on a successful in-ring career after winning the Duffy Wrestling League's top title in Season 1. Of course, she wasn't supposed to win the championship, and it'll be interesting to see the aftermath of the events that forced her to grab the gold.
Can Crystal succeed between the ropes? Will Jack be able to repair his marriage? Is Ace going to find a new calling outside of wrestling, or will he be pulled back in like so many greats who've tried to hang up their boots before him? Viewers will have the answers to these questions in the coming weeks.