Update On The Delayed Release Of Heels Season 2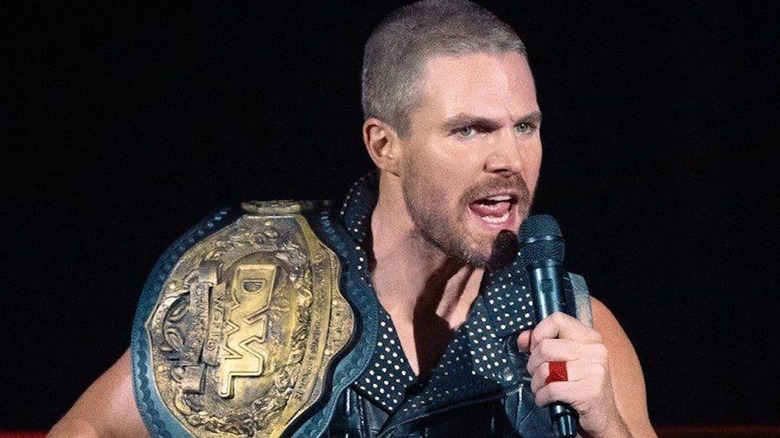 Starz
Though there may be an overflowing cornucopia of wrestling to watch right now, fans of the Duffy Wrestling League are anxiously awaiting the return of Jack and Ace Spade in the Starz drama "Heels." The series created by Michael Waldron of "Loki" fame starring Stephen Amell and Alexander Ludwig wrapped shooting on their second season last summer, but there's been no indication of when the season premiere is set to air on the premium network. However, we now have a small update on the timeline for the next chapter of the DWL.
According to PWInsider, the delay is due to the separation of Lionsgate and Starz into two separate entities. As they determine which assets belong where, the new season of "Heels" is a casualty of the corporate restructuring. All of the season two episodes are "100% produced and finished," so they're ready to go whenever things are cleared up with the network and an official release date is announced.
In the meantime, Amell (who has previously appeared on both AEW and WWE events as an in-ring competitor) shared a first look at the upcoming season earlier this month. In the brief clip unveiled on his Twitter, the Spade brothers appear to be a little friendlier with each other than when we last left them at the end of the first season, which first aired back in the fall of 2021. The former Green Arrow's post also revealed that the DWL is set to make its return this summer. Although, as previously stated, no date has been set for the season two premiere at this time. But with two huge wrestling shows on the schedule in a few months, there's a good chance that the release could be timed to AEW's All In London or WWE's annual Summerslam event.