Britt Baker Gives Her Insights On AEW Collision And The Roster Split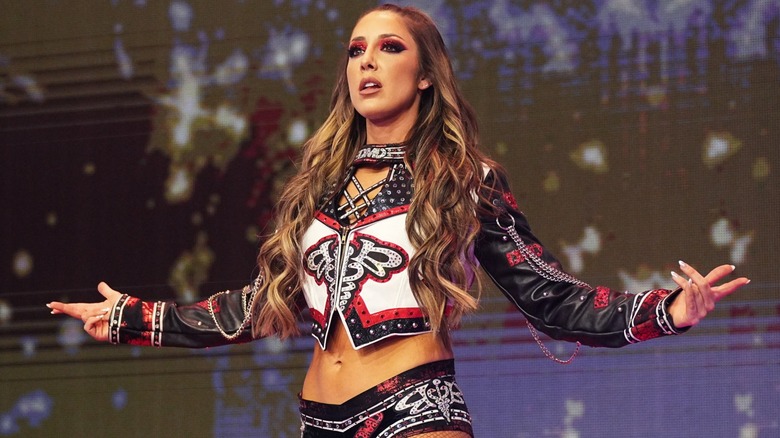 AEW
The debut of "AEW Collision" has proven to be a hit so far with fans thus far liking the early days of the show but, given the extra opportunities wrestling on TV another night of the week provided, talent is a big fan of the extra two hours as well.
"It's awesome, because it gives more people TV time," Dr. Britt Baker, D.M.D. told "Not Just Football with Cam Heyward." "We have such a huge roster and we have the best wrestlers in the world, but there's like 20 of them — there's so many, so it's great to give people a split."
The new show is very much in its infancy at this point and while certain people such as Miro and Andrade El Idolo have been brand specific on "Collision," it is still unclear if there will be a firm brand split between Saturday and Wednesday's "AEW Dynamite." The wrestlers are just as much in the dark as the plan moving forward as anybody.
"For us, we are still getting used to it because we don't know what show we are going to be on yet that week; it's not like a hard brand split," she said. "It's not like a 'Raw' or 'SmackDown'-type thing yet. I don't know what the plan for that [is], if that's going to be in the future, but it's awesome. 
Baker also believes that it is a major positive simply from a business perspective for the company. Adding "Collision" has only extended AEW's outreach, which is a major positive for AEW. "We've only been on TV for three or four years now and we already have three TV shows," she said. "Like the network wanted another show so that's awesome."
If you use any quotes from this article, please credit "Not Just Football with Cam Heyward" with a H/T to Wrestling Inc. for the transcription.