Grayson Waller Possibly Teasing A Feud With Fellow WWE SmackDown Star LA Knight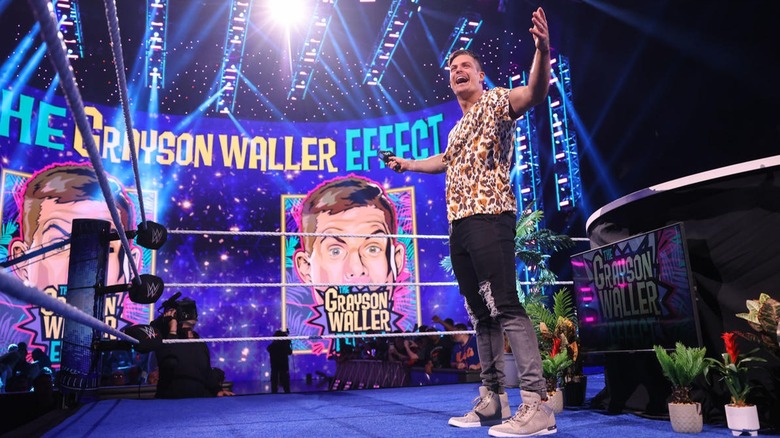 WWE
Grayson Waller is apparently a consumer of the dirt sheets who keeps himself apprised of the latest rumors in pro wrestling. 
Earlier this week, a report from PWTorch suggested that LA Knight's recent losing woes could be attributed to his history of rubbing people the wrong way, adding that the former Eli Drake being "bad at backstage politics" was the reason for WWE not capitalizing on his popularity and pulling the trigger on his main event push. Despite those issues, the report noted that Vince McMahon and Triple H were both firm supporters of Knight and that WWE's resident megastar was slated for a potential push after the SummerSlam premium live event on August 5. 
While reacting to the report on social media, Waller — who feuded with Knight during their time in "WWE NXT" — sarcastically wrote that WWE management was hopeful a "Grayson Waller Rub" could be the pathway to elevating Knight to main event status. 
"WWE officials are pitching for LA Knight to work with Grayson Waller," Waller wrote on Twitter. "Knight needs the Grayson Waller Rub, similar to when Waller launched him into super stardom on the NXT brand.
Could the "Grayson Waller Rub" indeed be the answer to Knight turning his recent misfortunes around? Knight hasn't won a match on television since his victory over Rey Mysterio on the June 23 "WWE SmackDown" and has since taken seven consecutive losses across televised and live events.
As of this writing, neither Waller nor Knight is scheduled to wrestle a match at SummerSlam, but it's entirely possible that one or the other receives a promo segment at the event in Detroit, Michigan. At Money in the Bank, Waller interrupted a John Cena promo segment and ate an Attitude Adjustment for throwing shade at fans in London. 
WWE officials are pitching for LA Knight to work with Grayson Waller. Knight needs the Grayson Waller Rub, similar to when Waller launched him into super stardom on the NXT brand.
(Source: Superdrunkmark69) pic.twitter.com/eDm7CIDNG0

— Grayson Waller (@GraysonWWE) July 25, 2023