Konnan On Bray Wyatt: Too Much Trouble, Matches Aren't Good, WWE Should Get Rid Of Him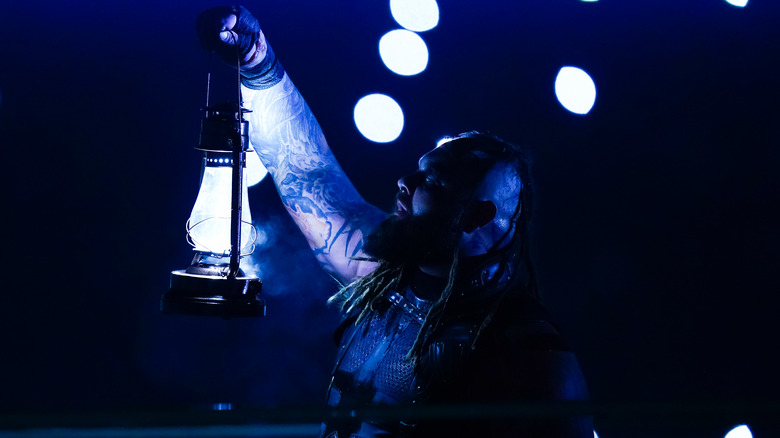 Alex Bierens De Haan/Getty Images
It's been over half a year since Bray Wyatt last wrestled on WWE TV. The former Universal Champion remains not medically cleared to compete due to an undisclosed illness, which scuttled plans for a feud with Bobby Lashley that would've included Uncle Howdy (better known as Bo Dallas) and Alexa Bliss. Wyatt is an expensive superstar and "Keepin' It 100" host Konnan thinks that WWE might be burning money on the divisive talent.
"I'm a big Bray Wyatt fan but he's too much trouble," Konnan said. The AAA Head Booker believes that Wyatt's various maladies, which Konnan seems to believe are mental health-related, which has not been confirmed, make him too unpredictable to rely on. "His matches aren't good and as creative as he is, $3 million for what he's doing?" Konnan asked. "Yeah, get rid of him."
Earlier this month it was reported that Bray Wyatt is still dealing with his undisclosed medical issues. WWE has reportedly been hesitant to come up with plans for the popular star, as the process of getting him cleared has proved more complicated than initially hoped. Further scuttling plans was the pregnancy of Alexa Bliss. WWE Creative reportedly stopped coming up with pitches for her once it was apparent that her maternity would keep her out of the mix for a significant portion of the year. Bliss referred to her pregnancy as "completely unexpected," showing off a "Best Oops Ever" onesie for her future child with her husband, recording artist Ryan Cabrera.