Alexa Bliss Pregnant, WWE Star Celebrates 'Best Oops Ever' With Husband Ryan Cabrera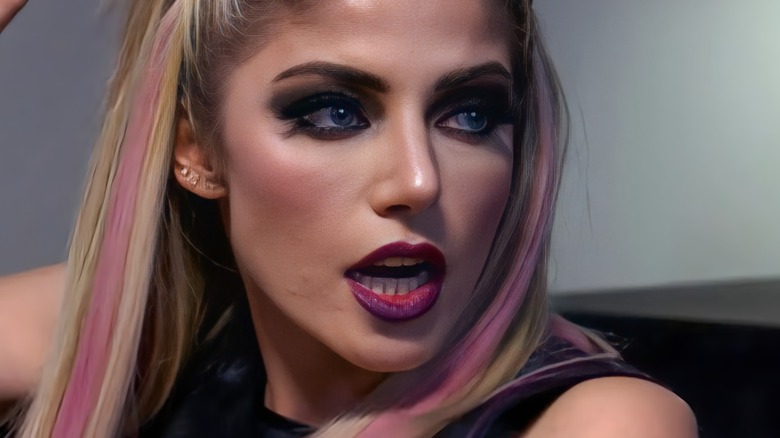 WWE
It's been more than four months since we've seen Alexa Bliss on WWE programming, and now it seems wrestling will be without her for a significantly longer period of time. Bliss took to Twitter on Tuesday to announce that she's pregnant with her first child. Bliss' Twitter post indicated the pregnancy was "unexpected," something she later confirmed to E!.
"It was a total surprise, as we weren't trying at all," Bliss said.
The announcement comes a little more than a year after Bliss married singer Ryan Cabrera, who told E! that despite the surprise, the couple "couldn't be more excited." The baby is due in December.
Bliss' most recent appearance on WWE television came during the 2023 Royal Rumble, when she lost a "Raw" Women's Championship match to Bianca Belair. Bliss had recently turned heel and was involved in an ongoing storyline involving the recently-returned Bray Wyatt and the mysterious character of Uncle Howdy, but following the Rumble (where Wyatt himself wrestled a critically panned "Mountain Dew Pitch Black" match against LA Knight) she was abruptly pulled from TV entirely as WWE seemingly began to re-think the entire Wyatt storyline. Wyatt, who is reportedly dealing with health issues, has also been gone from WWE for several months now, and with him Uncle Howdy, who was generally believed to be portrayed by Wyatt's real-life brother, Bo Dallas. Earlier this month, WWE producer Road Dogg claimed the company had a new writer for Wyatt, whose storylines had previously been handled by WWE Director of Long-Term Creative Rob Fee.
It's unclear where all these changes leave Bliss. While she will almost certainly not be wrestling any time soon, the nature of Wyatt's character lends itself well to work that doesn't involve physical contact, so she could theoretically still be involved if and when Wyatt returns.