Reported Reason WWE's Ronda Rousey Left FOX's Stars On Mars Reality Show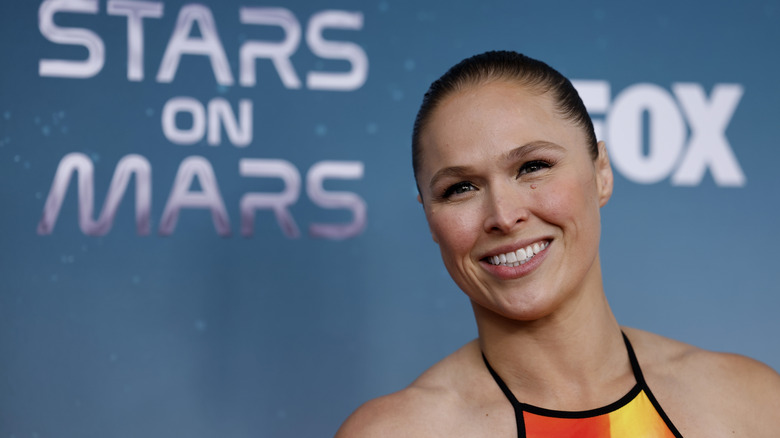 Frazer Harrison/Getty Images
Mankind is a long way off from making the barren, desert wastelands of the planet Mars habitable, to say nothing of the Australian outback. Such is the premise for FOX's "Stars On Mars" show, where a number of celebrities live together in a simulated Martian community in the Australian Outback.
According to the Wrestling Observer Newsletter, former WWE Women's Tag Team Champion Ronda Rousey left the show voluntarily, as opposed to being voted out in the traditional means of elimination. Rousey missed her daughter too much, but despite her struggles was said to never be in any danger of being voted out, as she'd been competent and diligent working alongside her fellow celebrities on the ersatz space commune.
Rousey apparently scrapped often with NFL running back-turned-actor Marshawn Lynch, with Rousey unable to ever get the former football star off his feet.
Back in the world of pro wrestling, Rousey is currently embroiled in a feud with former tag partner Shayna Baszler. Baszler's betrayal of Rousey cost the tandem the WWE Women's Tag Team Championship at Money in the Bank earlier this month. The feud between the longtime friends has been something they've desired to do in WWE for a long time, and Rousey reportedly has a "hard out" for her next hiatus from WWE, leading to the impromptu split in the middle of their Money in the Bank title defense. Rousey is rumored to be paying Baszler back with the rivalry, as Baszler is the one that first introduced the former UFC Champion to professional wrestling.