WWE Part-Time Wrestler Logan Paul Set For Boxing Return In October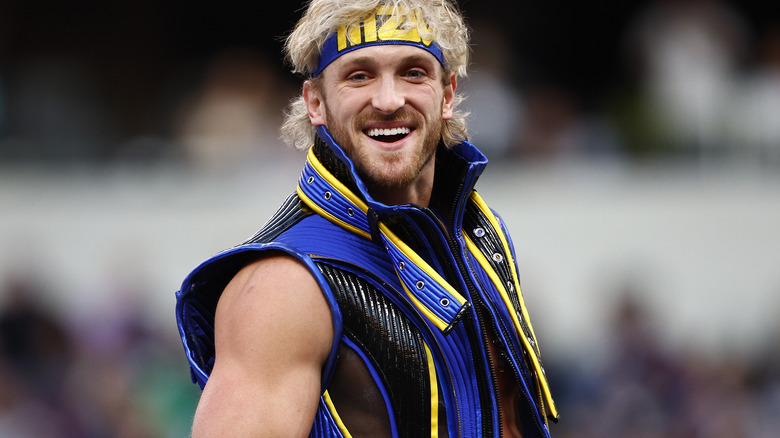 Ronald Martinez/Getty Images
With Logan Paul's WWE contract set on a part-time schedule, there is plenty of room for the social media sensation to continue his outside ventures, including his "Impaulsive" podcast and his boxing career.
As revealed on Instagram, Paul will make his return to the boxing ring later this Fall as he heads across the pond for an event in Manchester, England. The DAZN pay-per-view, entitled The Prime Card, will take place on Saturday, October 14, marking Paul's first boxing match since he faced Floyd Mayweather Jr. in an exhibition bout in June 2021. Paul's rival-turned-friend KSI is also slated to compete at The Prime Card. While Paul and KSI have previously battled against one other, the graphic noted that they would be competing in separate matches that night in what is being advertised as a "double main event." As of this writing, it's unclear if these bouts will be exhibitions or professional boxing fights.
Following the announcement of Paul's boxing return, ESPN spoke with him. "I'm f***ing pumped, man," Paul said. "It's been so long since I had a boxing fight, and I feel like I've kind of been left out of the conversation. But I don't train wrestling. I train boxing. I practice for my matches a couple times, but it's not like I'm doing WWE training. I've been behind the scenes just boxing for the past two years, so I'm so excited to finally get back in the ring and show people how good I really am at the sport."
Though Paul later said it was "premature" to reveal the identity of his opponent, he confirmed that he is aware of who he'll be fighting. Before Paul begins training for his boxing match in October, though, he is currently slated to wrestle Ricochet at WWE SummerSlam on Saturday, August 5.