Andrade El Idolo Battles Buddy Matthews In A Ladder Match For Mask On AEW Collision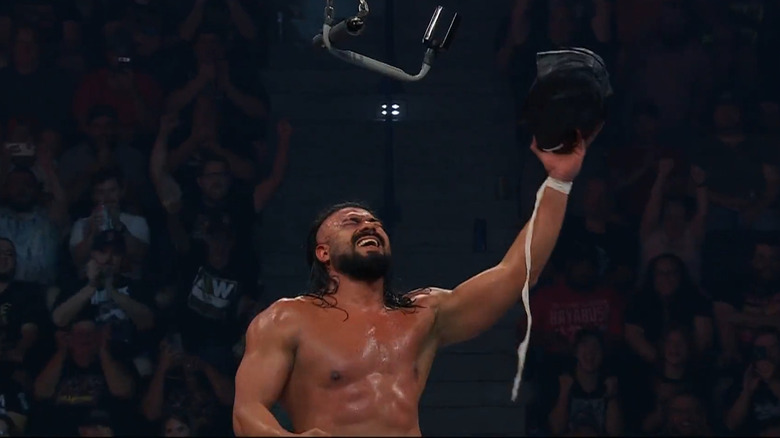 AEW
On this hot summer night in July, for once, the House does not always win.
In the opening contest of tonight's "AEW Collision," Andrade El Idolo faced off with Buddy Matthews of the House of Black in a ladder match to reclaim the mask that was taken from him. And as if "The Juggernaut" weren't enough to deal with, "La Sombra" also had to contend with Julia Hart, who made her presence known at various points in the match.
Hart's meddling truly reached a boiling point when she pulled out a set of handcuffs to restrain the luchador. She and Matthews attached El Idolo to the bottom rope outside the ring in order to keep him from climbing the ladder and winning the match. However, the spooky duo was hoisted on their own petard as they taunted their vulnerable opponent. As Matthews got too close, he took a boot to the face. Startled by the swift attack, Hart let go of the key she was dangling in Andrade's face and inadvertently put it within his reach.
Freed from his restraints, El Idolo turned the tables on Matthews and cuffed him to the rope as he ascended the ladder. Hart pulled out a set of bolt cutters to free her stablemate, then bolted up the ladder to try and stop their foe. But despite her best efforts, and even though Matthews got free from the cuffs, Malakai Black's henchmen ended up going through a table, which left Andrade with no more obstacles between him and his beloved mask.
While justice has been served for now and the House may need to rebuild, time will tell if the ferocious foursome is done with the tranquilo terminator.