WWE's Kevin Owens Gets Cagey On The Subject Of When He'll Turn On Sami Zayn (Again)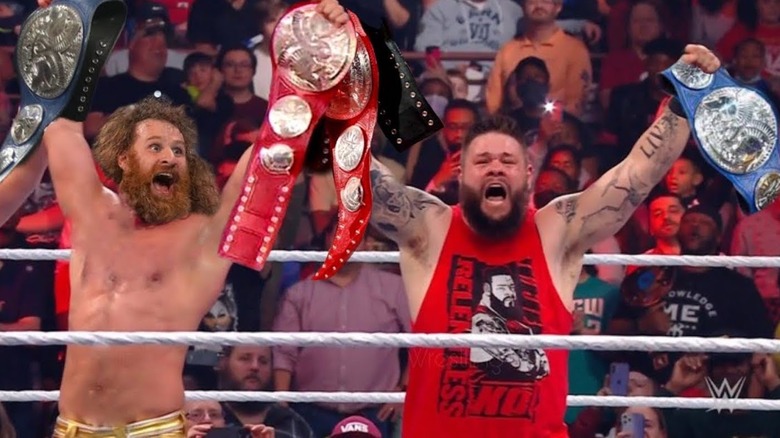 WWE
Even before their time as the Undisputed WWE Tag Team Champions, Kevin Owens and Sami Zayn have been connected. Their careers began in Montreal 20 years ago and crossed paths in various promotions around the world before arriving in "NXT," where their story continued to unfold. And throughout all that time, "The Prize Fighter" and "The Underdog From The Underground" managed to both stand together as a team and face off against each other in fierce competition. But do they see their current period of peace ending any time soon?
While speaking to Xfinity, Owens and Zayn admitted that they've both done whatever needed to be done in their careers, including turning on each other when the situation called for it. Owens doesn't deny that it could happen again, but he is confident that they'll remain tethered to each other for the foreseeable future.
"The one thing about our careers is that we can't be denied," he said. "When we felt like it was time, we had no problems stabbing each other in the back and getting to it. I guess me more than him a little bit. He's had his share. Honestly, if we think it's better for our careers to fight than the team, we have no problem doing it. But we'll be tied to one another forever. There's just no way around it, so we'll see what comes."
As many in the business frequently say, "Never say never." Could Owens have a pop-up powerbomb with Zayn's name on it? Sure, it's possible. For now though, they're playing nice and showing the world the true power of friendship.