Wrestling World Reacts To Death Of Paul Reubens, Pee-Wee Herman Actor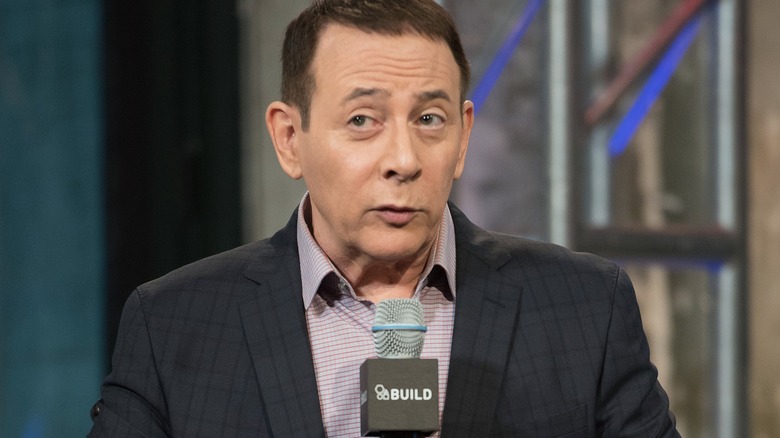 Mike Pont/Getty Images
Paul Reubens has died at the age of 70 following a long battle with cancer. The actor, who was arguably best known for portraying the iconic Pee-wee Herman character since 1977, appeared in many movies and TV shows throughout his illustrious career. However, he was also a familiar face in the wrestling world thanks to his WWE cameos. He appeared as Herman at WWE WrestleMania 27 and served as "Raw's" guest GM for a night back in 2010. Reubens also had many friends and fans in the wrestling industry, and some of them have paid their respects to him on social media.
AEW stars Danhausen and RJ City were quick to show pay respects to the late actor. Both of them also noted the influence that he had on their respective careers as entertainers. Danhausen credited a Pee-wee Herman segment for taking his own career to the next level, while City credited Reubens for his friendship and mentorship.
Thank you for everything @peeweeherma. If Danhausen didn't do the tequila bar dance on a whim from Big Adventure creating a sequence of bizarre luck and events and momentum, I wouldn't be where I am today 10000%

Rest easy 🖤 pic.twitter.com/SMBBhG46A1

— Danhausen (@DanhausenAD) July 31, 2023
Dear, sweet Paul Reubens. Thank you for everything. You always encouraged me to follow my heart and do what no one else was doing – I don't know what my life would be without you. You were a true artist and an incredible friend. I love you and miss you. pic.twitter.com/szJltVshUo

— RJ City (@RJCity1) July 31, 2023
AEW's Nyla Rose also took to social media to praise Reubens. In her tweet, she shared a gif of Herman riding a bicycle and referenced the "secret word" segments from "Pee-wee's Playhouse." 
Today, secret word is... "thank you pee wee"

— 🪓NYLA ROSE (THE REAL ONE) 🥀 (@NylaRoseBeast) July 31, 2023
Elsewhere, WWE announcer Corey Graves shared a heartfelt story about his experiences with Reubens. Like many, he grew up a fan of the performer's work, but he eventually had the honor and pleasure of calling the actor a friend. Adam "Edge" Copeland had similar experiences with Reubens, and he opened up about them on his own social media after the news of his death came to light.
Every year, my friend Paul would bombard me with texts, emails & occasionally videos wishing me a "Happy Birthday."

His Christmas cards were legendary.

I grew up a fan of Pee Wee. I was lucky to become friends with Paul Reubens.

May the laughter he gave us all live on forever.

— Corey Graves (@WWEGraves) July 31, 2023
Every birthday. Every Christmas. Cards. Gifs. Emails. Laughs. Supplied by Paul Reubens. He was a very, very special human being. Who brought untold joy to millions. For decades. Thank you friend. I'll miss you.

— Adam (Edge) Copeland (@EdgeRatedR) July 31, 2023
ROH and AEW announcer Ian Riccaboni was also a big fan of Reubens. So much so that he even shared a photo of him impersonating the entertainer during his childhood years, revealing that he idolized him back then. 
Pee Wee Herman was my first favorite anything. Before I wanted to be Marc Summers, I wanted to be Pee Wee. I went everywhere in this suit. I repeated all of his catchphrases.

I have friends who know and love Paul. My heart goes to them, and his friends and family. pic.twitter.com/quLwGMkngJ

— Ian Riccaboni (@IanRiccaboni) July 31, 2023
More tributes for Reubens will undoubtedly continue to pour in. The team at Wrestling Inc. also sends its condolences to the actor's friends, family, colleagues, and loved ones.