Here's What Bully Ray Would Like To See Out Of Ricochet In WWE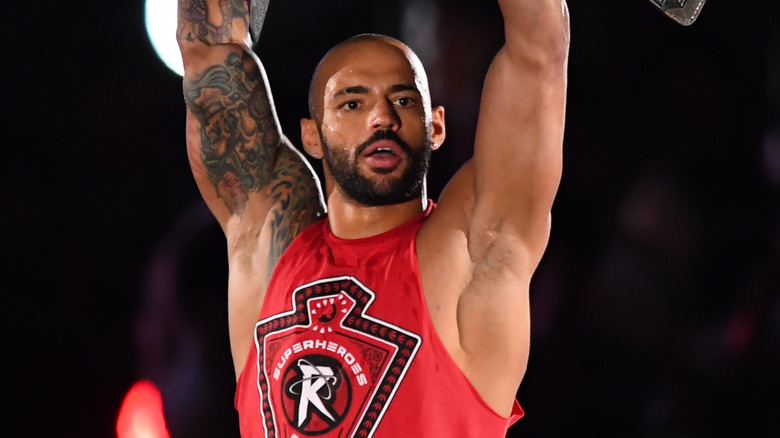 Etsuo Hara/Getty Images
Bully Ray is frustrated with the way Ricochet carried himself on the latest episode of "WWE Raw," and let the "Busted Open" listeners hear all about it.
"Logan Paul is carrying this whole [feud]," Bully exclaimed, reviewing this past Monday's interaction between the SummerSlam opponents. "Those people were chanting for Ricochet because they don't like Logan Paul and because it was on first and something happened last night [when Ricochet made his entrance] people started chanting his name and he's looking around and he looked at the camera and kinda gave the camera a 'You see that?'"
Ricochet's bravado irked Bully.
"I just wanted to reach through my TV screen and slap him," Bully exclaimed, saying that the crowd's response was related to the timing of the segment and not the former WWE United States Champion's popularity.
"They're chanting for you right now because you're the first babyface they've seen on the show and because they despise Logan Paul, not because they love you."
As it stands, Bully doesn't believe that there is a "true fire" within the Ricochet character, saying he'd like to hear "some bass" in Ricochet's voice, and it's hurting his presentation
"Somebody in that company needs to sit down and ask Ricochet, 'What makes you mad?'" Bully said.
Bully Ray explained that he knows every button he can push with all of his opponents. Paul brought up Ricochet's girlfriend during the segment, and both Bully and co-host Dave LaGreca think that Ricochet was too cool-headed about the exchange. LaGreca advocated that Ricochet should've "slapped the mic out of [Logan Paul's] hand."
If you use any of the quotes in this article, please credit "Busted Open" with a h/t to Wrestling Inc. for the transcription.