Booker T Has High Praise For WWE Star, Title Match At NXT Great American Bash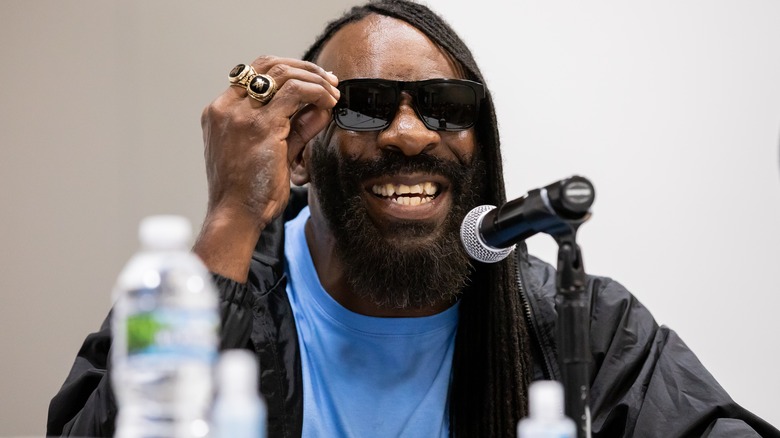 Brandon Nagy/Shutterstock
Despite his loss to Carmelo Hayes at "WWE NXT" Great American Bash, Ilja Dragunov captured the attention, and praise, of many wrestling fans and pundits, including WWE Hall of Famer Booker T.
Speaking on "The Hall of Fame" podcast, Booker proclaimed Dragunov versus Hayes as the best match at The Great American Bash. The match, which lasted over 24 minutes, saw the flashy Hayes defend his "NXT" Championship against the hard-hitting Dragunov in what WWE Senior Vice President of Talent Development Creative Shawn Michaels previously described as a "clash of techniques." While Hayes emerged victorious in the title match, Booker issued immense praise for Dragunov's efforts as a challenger.
"[My] props go to Drag," Booker said. "Dragunov brought the fight and he made Carmelo Hayes have to bring everything in that fight in order to walk out 'and still the "NXT" Champion.' Now taking nothing away from Carmelo Hayes, but Dragunov is a guy that when you look at him, you believe."
'Fight Of His Life'
"This is what I say about fans," Booker T continued. "When fans [are] watching the matches, they're watching the guys come out and they do their stuff and certain guys go to the ring, move their hair, their matches. Then the next match come out and they have their match. Then the next guy come out and have their match and then they announce, 'Okay, Ilja Dragunov is coming out here,' and then the kid go, 'Oh, man, wait a minute. You saw those other matches? Watch this guy.' That's the ticket. That's what Dragouov brings to the table."
As Dragunov unleashed the physicality at The Great American Bash, Booker also commended Hayes for successfully deflecting it.
"Carmelo Hayes was in a fight of his life, and I'll tell you, he brought it," Booker said. "He went out and did what I'm expecting this young man to do on a weekly basis, and that's go out there and be able to wrestle at the highest level, but when it's time to get into a fight, let's bring the noise. And that's what I saw on that night."
If you use any quotes from this article, please credit "The Hall of Fame" with a H/T to Wrestling Inc. for the transcription.