Read AEW President Tony Khan's Response To Triple H's 'Secondary Promotion' Comment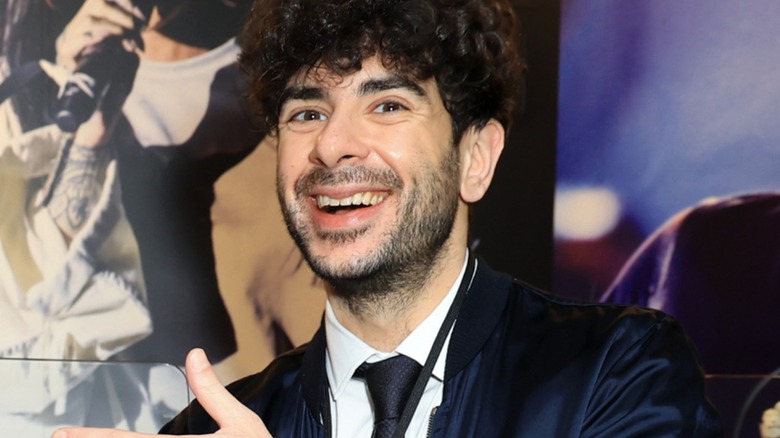 Leon Bennett/Getty Images
While AEW and WWE both find themselves doing good business at the moment, the rival promotions seemingly can't resist taking shots at each other. The latest came from Peacock's recently released "American Nightmare: Becoming Cody Rhodes" documentary, in which WWE Chief Content Officer Triple H called AEW, the company Rhodes helped found in 2019, a "secondary promotion."
As expected, the comment did eventually make its way back to AEW owner Tony Khan, who was asked about the remarks during an interview with the Orlando Sentinel. Shockingly, Khan took some exception to the remark, though he made sure to put the onus on Triple H and not Rhodes.
"We certainly won't be the secondary promotion at All In," Khan said. "We're No. 1 in the UK, on TV, and with a record gate. I have a lot of respect for Cody. I know these weren't his words, to be fair, but we're not secondary in a lot of markets — for the first time in a long time, WWE has been secondary in a lot of markets... I'm proud of where we're at and we're not taking a back seat to anybody."
While AEW does trail WWE in both ratings and attendance at the moment, Khan isn't wrong about AEW's success in the UK. The promotion has gained a strong foothold across the pond, thanks to TV deals with ITV and ITV4. Furthermore, AEW has currently sold well over 70,000 tickets for All In, making the Wembley Stadium event, taking place on August 27, one of the highest-attended wrestling events in history, including outdrawing several WWE events. As of this writing, the ticket sales stand at an estimated 77,000.