WWE WrestleMania 39 Generated A Whopping Sum For LA Region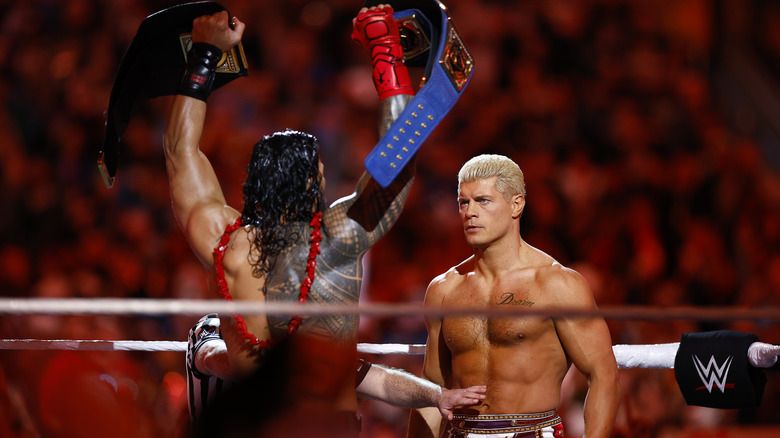 Ronald Martinez/Getty Images
WWE continues to tout the success of its second quarter earnings. On Wednesday, the company announced that WrestleMania 39 generated $215 million in economic impact for the Los Angeles region. WrestleMania events spanned several days in the "City of Angels" with "WWE SmackDown," the WWE Hall of Fame induction ceremony, NXT Stand and Deliver, the two-night WrestleMania event, and "WWE Raw" the following Monday, plus other local events.
Applied Analysis conducted the economic impact study. With that being said, WrestleMania 39 broke the record from the year prior when WrestleMania 38 brought $206.5 million in economic impact for the Dallas/Arlington region in Texas. It was also noted in WWE's press release that WrestleMania events have generated more than $1.2 billion in cumulative economic impact for host cities since 2016.
Other statistics from the study found that out-of-town visitors stayed for an average of four nights in Los Angeles. More than half of the attendees came from outside of southern California and 15% of fans traveled from international markets.
WWE previously announced that WrestleMania 39 brought in $21.6 million in ticket sales, which was a 27% increase from the previous record and made it the highest-grossing WWE event of all time. They also sold 20% more merchandise than the year before. Night One drew 80,497 attendees, while Night Two drew 81,395 for a combined attendance of 161,892.
WrestleMania 40 has been confirmed for Lincoln Financial Field in Philadelphia on April 6 and 7. Tickets for that event will go on sale on Friday, August 18.