Kevin Sullivan Explains His Least Favorite Aspect Of AEW Programming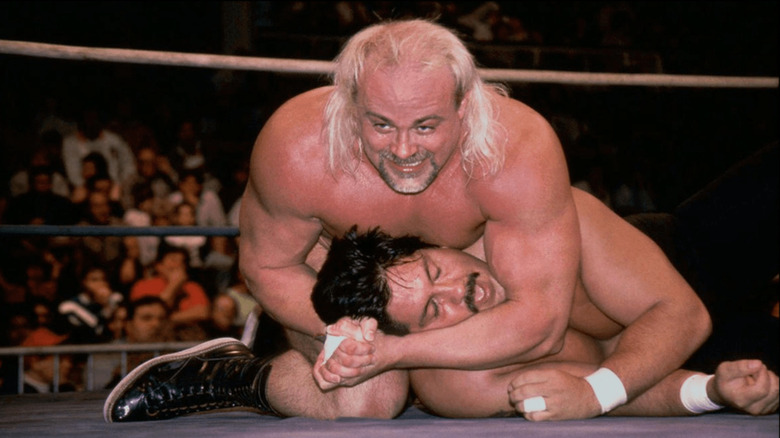 WWE
On a recent episode of "Tuesday with the Taskmaster," former WCW head booker Kevin Sullivan was asked the age-old question that has divided wrestling fans for decades: What draws more money? Stories or matches. The question — brought about by the obvious differences between WWE's storyline-heavy product and AEW's in-ring heavy programming — prompted Sullivan to recall a conversation he once had with Hulk Hogan, whom he convinced to turn heel in the summer of 1996.
"When Hogan asked me to be the booker, I said, 'Vince McMahon is selling Mercedes-Benz, I'm gonna sell Harley-Davidsons.' Both vehicles are completely different." 
"I think AEW is going in the right path," Sullivan continued. "You can't compete with them [WWE] right now. What are you going to do? I think if they stay the course, and maybe have a meeting and tell some of these people, 'If you got a problem, come to the office, don't say it to yourself.' I think they're going to grow."
As he further discussed the differences between WWE and AEW, Sullivan then drew the analogy of a consumer visiting their favorite restaurant and trying out different meals rather than sticking to the same one, suggesting that AEW could eventually catch up to WWE if they serve different and unique dishes.
"As long as they [AEW] have great wrestling ... the only thing I don't like about that program [is] they have four people in the [announce] booth sometimes. And another thing, for which I'm going to get heat, is why they keep track of wins and losses. They also have interim champions when someone gets hurt, right? It's very sports-oriented." 
Sullivan argued that AEW would be better off sticking to a two-man announce booth and a person assigned to interviews, highlighting the importance of Gordon Solie and Mean Gene Okerlund's facial expressions while they interviewed the likes of Dusty Rhodes and Randy Savage.