WWE Hall Of Famer Ted DiBiase On His Expectations When Starting With WCW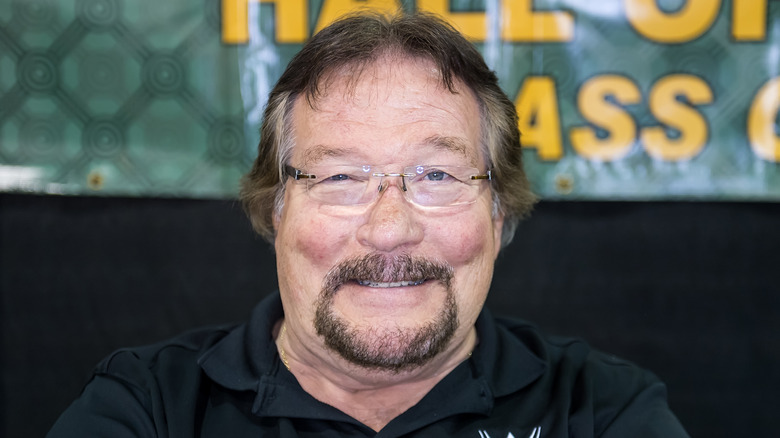 Gilbert Carrasquillo/Getty Images
When "The Million Dollar Man" Ted DiBiase made the move from WWE to WCW in 1996, he was introduced as the surprise fourth member of the NWO. However, DiBiase wasn't aware that was the plan when he signed. Speaking on his podcast, "Everybody's Got A Pod," DiBiase explained what happened when he first jumped to WCW.
"Originally, I thought [I was being brought into WCW] as a commentator," DiBiase said. "When the whole NWO thing got going, then you take into consideration the character that everybody remembered, The Million Dollar Man." DiBiase debuted as the financier of the NWO, and was jokingly referred to as "Trillionaire Ted" on TV, referencing both his previous WWE persona and WCW, TBS, and TNT owner Ted Turner.
"Initially, I had no problem with [Eric Bischoff]," DiBiase continued. "My hire, by Bischoff, was to be the mouthpiece of the New World Order, but you gotta realize — here's the difference. Eric Bischoff is looking for all the help he can get in terms of putting together a show, and [finding] the storyline. Who's he counting on? He's counting on Hall, Nash, Hogan." According to DiBiase, all of those men had an incentive to feed Bischoff storylines that were favorable to them, while DiBiase didn't have the same temptation as he was no longer an active wrestler.
Eventually, Bischoff began to position himself as the manager of NWO instead of DiBiase, which led to DiBiase telling him that he'd be happy to go home and collect his paycheck if Bischoff wanted the role. For a time, that was exactly what happened. However, DiBiase was brought back into WCW a few months later and paired up with the Steiner Brothers. Bischoff now claims that putting DiBiase in the NWO was "the worst idea" he had for casting the group.